Tip: Improve your Microsoft Ads campaigns step by step with the MS Ads Maturity Model.
Advertising on Bing
The best-known network on which you can advertise within Microsoft Advertising is Bing, Microsoft's search engine with a global market share of about 3% (source: statcounter). However, Bing's market share varies widely from country to country. In the Netherlands this is 3.3%, in Germany 5.1%, in France 3.9% and in the UK it is 3.6%. In the United States, Bing has a higher market share of about 6.5%.
Advertising on other search engines within Microsoft Ads
Bing is also not the only search engine on which you can advertise within Microsoft Advertising. In fact, your search ads can also appear via Microsoft Ads on:
Yahoo
DuckDuckGo
Ecosia
AOL
Each of these search engines serves its own target group. For example, Yahoo and AOL can be seen as news sites or home pages with a built-in search engine. DuckDuckGo is mainly used by people who are concerned about privacy, as the browser was built with the idea that every user will see the same search results, so there is no need to use data based on the user's search behavior. With Ecosia, you see relatively more 'green' users, since they promise to use 80% of their profits to protect the rainforest.
Advertising on LinkedIn: profile targeting
LinkedIn has been a subsidiary of Microsoft since 2016, after which Microsoft started working on integrating this platform with Microsoft Advertising. Since 2021, you can use LinkedIn profile targeting in Microsoft Ads. Microsoft Advertising is the only advertising platform (other than LinkedIn) that allows you to target potential customers based on their LinkedIn profile information. You can target customers based on their company, industry or job title. Currently, however, this feature is only available in the United States, Canada, the UK, Australia, France and Germany. Nevertheless, Microsoft has already announced they will make this available to more countries.
Advertising on Microsoft Audience Network
The Microsoft Audience Network is an advertising network from Microsoft that allows you to reach a large number of websites, apps and other digital platforms with text, display and video ads. Ads placed on the Microsoft Audience Network can be targeted based on a wide range of criteria, including demographics, interests and behavior. Well-known websites covered by the Microsoft Audience Network are: Outlook, MSN, Fox and CBS Sports.
Advertising on Xandr
In 2022, Microsoft also acquired Xandr, which offers programmatic advertising solutions for Display, Native advertising, Video and Connected TV. In doing so, Microsoft has significantly expanded its reach. The last two services are particularly interesting, as the amount of time that people spend watching digital videos per day has grown enormously in recent years, from 2.5 hours to nearly 3.5 hours a day (source: Video&Connected TV Ads). The network includes Discovery+, Samsung TV Plus, Sky and Dailymotion, among others.
Microsoft Advertising Editor
Just like Google Ads, Microsoft Ads also has an Editor. The tool is free to download and offers many features, such as offline and bulk campaign creation and editing.
Advantages of Microsoft Ads
Microsoft Ads offers some important advantages: it is a great complement to Google Ads, but also offers some additional benefits over Google Ads.
Additional revenue
The first major advantage is that you can generate additional revenue by using Microsoft Ads. This is because you can target other networks that you cannot reach with Google Ads. By applying the right settings, this can be done at a similar or better value/cost ratio than within Google Ads.
Cheaper than Google Ads
Microsoft Ads is cheaper than Google Ads because it faces less competition. The platform is smaller, so not all parties use it. As a result, the CPC is lower, so you can generate more revenue from your budget.
Importing campaigns from Google Ads
Microsoft has made it very easy to create and manage the campaigns in its platform for users who are already using Google Ads. As a matter of fact, you can import the campaigns quite easily from Google Ads. By setting up a daily import, you also ensure that the ads remain up to date without having to duplicate adjustments. If you do want to set up other campaigns, advertising texts, keywords or bids in Microsoft Ads, you can choose to import only parts and maintain the rest in Microsoft Ads.
Reaching a different target group than Google Ads
The Microsoft Advertising platform serves a slightly different target group than Google Ads:
Proportionately, Bing users are older than those on Google.
You will see a larger group of business users on Bing. Many users have selected Bing as the default browser on their business laptop or are directed to this from their Outlook account.
For these reasons, the ratio of desktop versus mobile users on Microsoft Advertising is also very different from that on Google. You often see that more than 90% of search traffic comes from desktops, whereas with Google today that is often only a minority.
Seeing that you also advertise on DuckDuckGo and Ecosia, the target group is proportionally different and is respectively more privacy-sensitive and more concerned with sustainability than those on Google.
Growing interest due to AI chat function
There is growing interest in the search platform due to the integration of an AI chat function. This feature provides opportunities for advertisers to be among the first to capitalize on its potential. Microsoft displays all ads within the chat function and is continuing to explore how best to expand the possibilities of this feature.
Advertising types in Microsoft Ads
In your Microsoft Advertising account, you can deploy different types of ads, similar to your Google Ads account. These include the well-known responsive search ads, dynamic search ads and the product ads. Less well known are the Microsoft Audience Ads, App install ads, Vertical ads and Multimedia ads.
Microsoft Audience Ads
Microsoft Audience Ads are ads within the Microsoft Audience Network for advertising through text, display or video ads. It is similar to a Display or Demand Gen campaign within Google Ads. Microsoft combines your ad assets to show the most suitable ad for each auction.
Vertical Ads
Vertical Ads are feed-driven ads for various business segments (Automotive, Credit Card, Cruises, Insurance, Professional Services and Tours & Activities). For this, Microsoft uses artificial intelligence to link the most suitable search terms to these ads.
Multimedia Ads
Multimedia ads combine texts and images and are displayed on different main and sidebar ad positions on Bing. The main advantage of this type of ad is that it can increase the CTR of your normal text ads.
Bing Shopping Ads
You can advertise with Microsoft Advertising within Bing through a Shopping or Smart Shopping campaign. Similar to the campaigns, you can also import products automatically from your Google account. But you can also upload the products directly in Microsoft Advertising. If you choose the first option, you should note that as soon as the person who linked the Google Merchant Center leaves the company, you will need to reset the link as soon as possible, otherwise your products will expire and you will no longer be visible within Bing Shopping. It is therefore always better to use a general email address.
App install Ads
App install Ads are similar to text ads, but offer a direct link to your app through a button, sending customers directly to the relevant app store to download your app.
Microsoft Advertising policy
The Microsoft Advertising ad policy is similar to that of Google. If you cannot advertise on something within Google Ads, it is more than likely you cannot advertise on Microsoft Ads for this either.
That said, it is important to monitor the rejections within your Microsoft Advertising account. Ad texts or products can be rejected in Microsoft Ads while they are still valid in Google. Often the rejection is unjustified and you can request a manual check within your Microsoft Advertising account.
Microsoft Advertising Maturity Model
For a long time, Microsoft Advertising has been a bit of an underdog in the search-engine marketing industry. This is due to the lower budgets and the lower turnover value. In many cases, only a link is made with Google Ads and then it is simply 'set and forget'. This can be a good method to start with Microsoft Advertising, but this approach will not get the best out of the platform.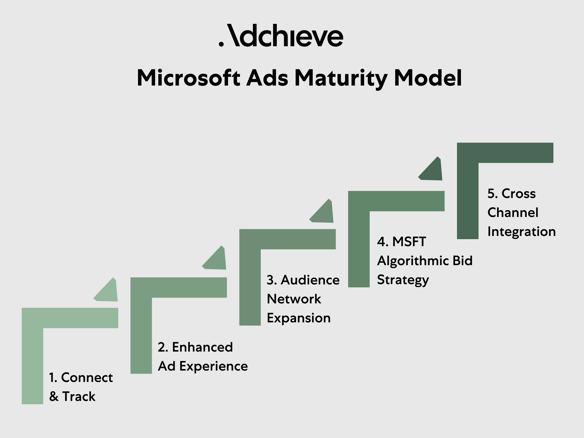 That is why Adchieve has developed the Microsoft Advertising Maturity Model for advertisers who want to get the most out of Microsoft Advertising.
This Maturity Model provides direction to the Microsoft Advertising account and helps marketeers improve accounts step by step, from basic settings to advanced strategies, to get the most out of Microsoft Advertising campaigns.
Read all about it in our Microsoft Ads white paper.