Google Travel's 'accomodations' exist out of Google Hotel Ads and Vacation Rentals. To become an accomodation, you must offer short-term overnight stays to the public.


Hotel Ads
If your property has a listed Google Business Profile and provides a physical location with a continuously operating reception (and the location is open to the public at all times), Google considers the property a hotel.
To appear in Google Hotel Ads, the accommodations need to meet a number of qualifying criteria:
In essence, the accommodation must offer a room where guests can spend the night.
The space must have solid walls and is equipped with sanitary facilities.
There must be a reception that is open and operating during normal business hours.
It should be feasible to book for a minimum of 7 days/nights, preferably less.
Vacation Rentals
If you own a house, apartment, or other short-term (furnished) accommodation without a continuously operating reception or accept 'walk-in' reservations, it could qualify as a Vacation Rental. You can then advertise using Google Vacation Rentals.
A holiday park is therefore more likely to advertise on Google Hotel Ads and a holiday home on Vacation Rentals. Read more about Vacation Rentals here.
Hotel Ads vs. Google Ads
Google Hotel Ads is part of Google Ads. Next to Hotel Ads, Google Ads also offers Google Search Ads and Google Shopping Ads.
In the industry of hospitality, in addition to Google Hotel Ads, advertisements are often also placed on Google Search Ads.
Perhaps the biggest difference between the two channels is that with Hotel Ads you cannot choose the search terms for which you want to rank. Other differences are the degree of competition, the location or placement of your ads, what you pay, the available bidding strategies, etc. For your visitors and future guests, Search Ads and Hotel Ads also look dissimilar and follow a different format.
In the table below you can see the differences at a glance: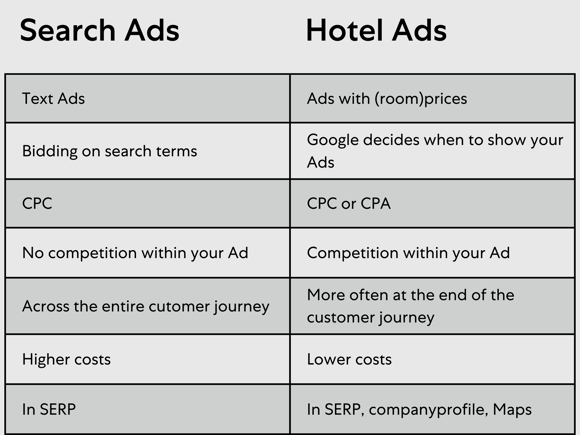 The two channels complement each other perfectly. An important question you should ask yourself is at which moments of the customer journey of a traveller you want to be visible. For example, you often see Search Ads throughout the entire customer journey and Hotel Ads are often shown at the very end of the customer journey.
In this article you will read how to optimally use Search Ads and Hotel Ads side by side.