Do you want to optimize Hotel Ads? Download our step-by-step guide for optimizing Google Hotel Ads here.
What are the differences between Search Ads and Hotel Ads?
SEA: Search Engine Advertising
Search Ads are the former text ads within Google. For SEA, you specifically buy search terms you want to be found for. This can be the name of your hotel or a more generic search term such as "Hotel" and/or "Destination."
Because you decide for yourself which terms you want to be found for, you can be visible in the entire funnel: lower, mid and upper. Because there is more competition for a generic search term such as Hotel Amsterdam (for example, because Booking and other parties also advertise on it), you often pay much more for this than when you purchase on specific terms such as hotel name or other combinations. You always pay per click.
Example Search Ad: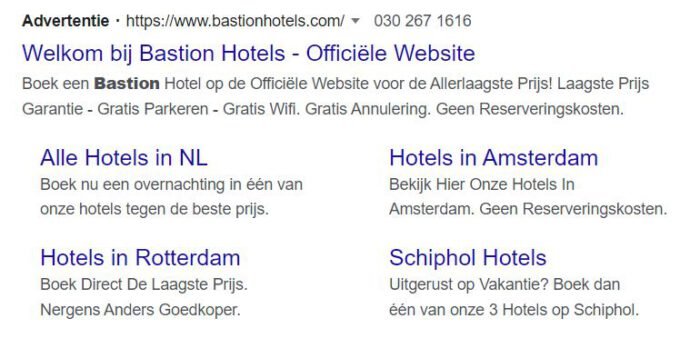 Google Hotel Ads
Google Hotel Ads are hotel advertisements where Google always shows your prices. You cannot buy on search terms because Google itself determines when it is relevant to show your accommodation to the user.
You can start for free with Free Booking Links, and by choosing different bidding strategies, you don't have to run much risk. Google gives Hotel Ads a more and more prominent place within the search results, making it a missed opportunity if you do not advertise on Hotel Ads. The biggest advantage is realizing more bookings at lower costs.
Example Google Hotel Ad: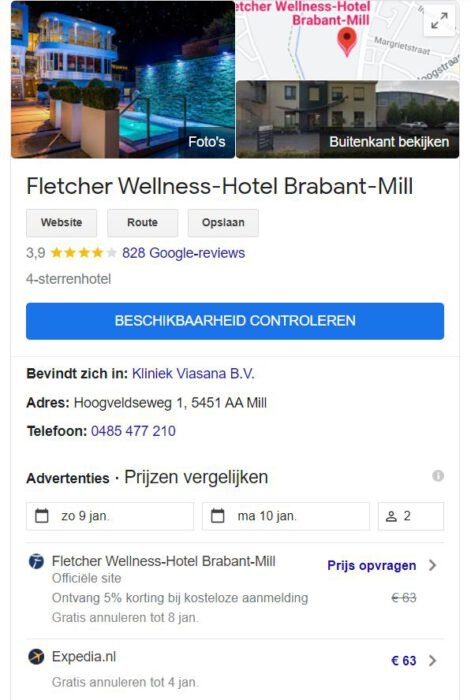 The differences at a glance
These are the differences between Search Ads and Hotel Ads at a glance: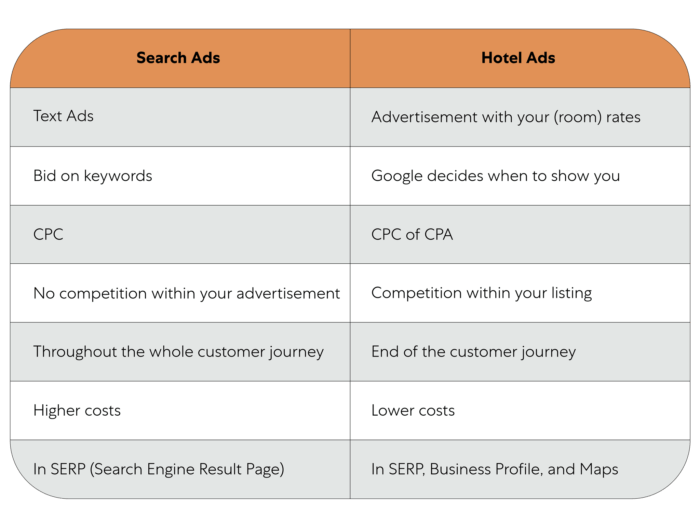 Visibility during the customer journey
An average traveler has about 250 touchpoints during the customer journey. It is important at which moments in the customer journey of the traveler you want to be found. The more, the better, of course, but that is always a cost-benefit consideration. There are many terms within a customer journey on which a Search or a Hotel Ad is triggered.
Visibility through Search Ads
Within Search, you want to be found on your own accommodation or brand name so that you generate the traffic that is already familiar with your accommodation. It would be a shame if you miss out on these bookings because other parties "hijack" traffic on your brand name. Our advice is to also advertise your unique offer by incorporating your USPs in the text. Then expand more and more to generic. Because you advertise in a range from specific to generic, there are many more options within Search to tag different terms within the customer journey.
Visibility through Hotel Ads
If you also use Hotel Ads, you can easily start with Free Booking Links (free) and paid Hotel Ads. For example, opt for a CPA (Cost Per Acquisition) strategy. As a result, you only pay for a conversion or a stay that has actually taken place. Google determines when you will be shown with your price, after which travelers can book directly on your website.
In short, the motto is: use Search to cover the terms you want to be found for (during the entire customer journey). Use Hotel Ads to be visible with your price when Google shows you (more often at the end of the customer journey).
Therefore, the channels are ideally complementary to each other and reinforce each other in generating as many bookings as possible in the cheapest possible way.
How do you prevent cannibalization?
A question we get a lot. In our opinion, you cannot prevent cannibalization. Google shows in the SERP (Search Engine Result Page) both Search Ads and organic results (SEO) as well as your Google Business Profile (ideally with prices from Free Booking Links or Hotel Ads).
Example of SERP: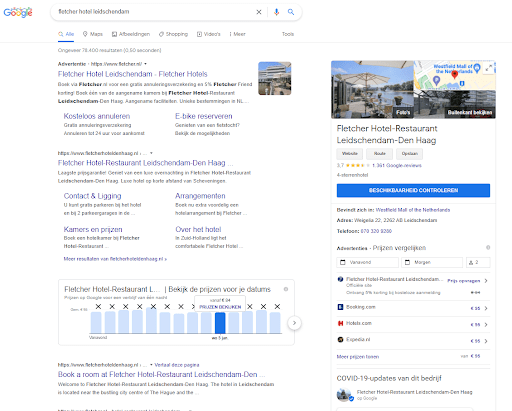 Within your knowledge window, all prices and parties that advertise with Hotel Ads for your accommodation are shown. In our opinion, a more relevant question immediately arises: because what if you are not there and the competition is?
You lose the booking and still have to pay commission to a party such as Booking. The success of Hotel Ads depends on the agreements you make with your competitors because your price is ideally equal to or lower than that of your competition.
Influence your input
You cannot prevent cannibalization, and ideally, you are as visible as possible. Therefore, it is important to exert as much influence as possible on the input you send to Google. More relevant ads based on your offer are more likely to lead to traffic at a lower cost, which is your ultimate goal.
Below we describe how you can influence the input for Search Ads and the input for Hotel Ads.
Optimize for Search Ads
Search Ads software is often used as standard in the e-commerce world to achieve better results for individual products.
Do you already do that for your offer? Automatically create campaigns for all your destinations and accommodations, deploy the proven Hagakure structure, and have price extensions updated dynamically. Make sure your ad texts are and remain up-to-date with the current offer, prices, and availability. Taking advantage of automation software also saves a lot of time because you no longer have to manually create and maintain campaigns.
In the case of Europarcs, read how they use SEA and Hotel Ads together in their marketing strategy.
Optimize for Hotel Ads
You optimize your input for Google Hotel Ads, for example, through campaign creation software and highly refined bid management.
Campaign creation
Use software to create different campaign types, such as a single property per campaign strategy. In this way, you can automatically create a separate campaign per property so that you can adjust the input at the hotel level.
This also applies to individual bids from hotels. Ideal if, for example, you work for a hotel chain where individual hotels have different budgets or if different countries have to be targeted per location.
Splitting and pausing is also a snap with campaign creation software. Manually this takes a lot of time and work.
Bid management
Your result from Google Hotel Ads is largely determined by the bidding strategy you choose. Within a CPC bidding strategy, you can also include your booking arrival window (for example, business objectives, availability, and margins) and therefore adjust optimally for the best results. You can go one step further by using customer-specific bidding algorithms.
Depending on your organization and objectives, you can test different combinations of bidding strategies. For example, you could work with a CPC (Cost Per Click) strategy for Google Ads and a CPA (Cost Per Acquisition) strategy for Hotel Ads. As we mentioned in the introduction to this article, there is no one specific strategy that works for all accommodation types.
Do you want to optimize Google Hotel Ads or Search Ads?
Do you want to optimize Hotel Ads? Download our step-by-step plan for optimizing Google Hotel Ads here. Optimizing your Search Ads through automation? See all the benefits of our Google Automation software.
Of course, we can also help you with the optimal tuning of both channels. Do you have specific questions about that? Please feel free to contact us.