What is Google Travel?
First, let me explain the context in which the vacation rental possibilities have been launched. Google Travel, formerly Google Trips, is an inspiration platform and trip planner for travelers.
You can get trip info, like your upcoming trips, make reservations, and research google.com/travel. This platform includes the products: Trips, Explore, Things to do, Flights, Hotels (for which Google offers Google Hotel Ads), and Vacation Rentals.
What is a Lodging business in Google Terms?
Google uses more than a dozen different categories to help people understand what kind of lodging they'll find at a given location. Lodging accommodations fall into two distinct categories: Hotels or Vacation Rentals.
Picking the right classification for your lodging business is a good way to help the right customers find you. To qualify as a lodging business, you must offer short-term overnight stays to the general public.
If your property has a Google My Business listing and a physical presence with a fixed location that is open to the public, then it is probably considered to be a hotel.
If your rental is a house, apartment, or other short-term furnished lodging for travelers and doesn't have permanent on-site management or doesn't accept walk-in reservations, then it is considered to be a vacation rental.
Hotel or Vacation Rental: what is the difference?
But, be aware of the following. I some ways, vacation rentals are similar to hotels. Both take reservations and provide overnight lodging. However, there are important differences in what guests and owners expect from a vacation rental experience. For example, it wouldn't be appropriate for a traveler to knock on the door of a vacation rental, looking for a room for the night.
That's the reason for an important point about vacation rentals. Their locations don't appear on Google Maps. Instead, they're featured in Google search results and ads when people search for lodging in a particular area.
How can you tell if your lodging is a vacation rental rather than a hotel, guest house, or bed and breakfast? Start by asking these questions. Does the establishment:
1) Have a front desk where new arrivals check-in?
2) Have permanent on-site management?
3) Welcome walk-in customers?
If you answer "yes" to two or three of these questions, your business is a hotel or a related category. If you answer one or none as a "yes," you're very likely a vacation rental.

How do travelers find Vacation Rentals?
Vacation Rentals provide travelers with alternative ways to book accommodation beyond hotels. Travelers can find unique properties— be it a cabin in Yosemite National Park or a beach house in Sydney— by applying the Vacation Rentals filter, visiting the Vacation Rentals tab, or searching for vacation rentals (or related terms) directly on Google Maps and Search.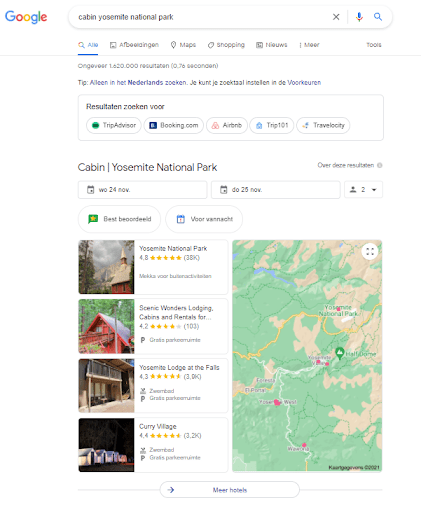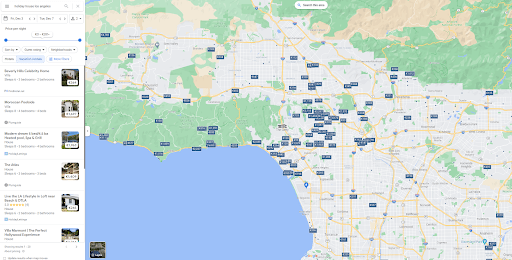 What are the benefits of Vacation Rentals?
With vacation rentals, both travelers and vacation rental providers benefit from the features and available options.
For Travelers:
Travelers can find their dream vacation rental with occupancy and amenity filters specific to Vacation Rentals, such as if the property has WIFI, is kid-friendly, has a hot tub, or can accommodate a group getaway.
Along with essential listing information such as pricing, reviews, ratings, and photos, travelers can also discover nearby restaurants, transit availability, and other points of interest near the property.
Travelers can compare accommodation types by browsing hotels and vacation rentals together. Vacation rental properties can be explored with specific attributes, reviews, and proximity to points of interest.
Note: Google will show the term holiday rental to travelers instead of vacation rental; the business name for this service (b2b) is vacation rentals. This name, of course, will differ for each language.
For Vacation Rental Providers:
The properties you represent can be prominently displayed to travelers worldwide actively searching for their next booking. Travelers can view photos, descriptions, and pricing for your properties.
Like Google hotel ads, Google decides whether you will appear or not. However, in general, the rule is that once people enter a location and a form of lodging accommodation, hotel ads and vacation rentals will be shown. So, you will also appear when travelers don't search on the term vacation rental, but also for 'Cabin,' 'Holiday house,' etc.
Holiday Rentals are integrated into the Google hotel ads results, so when someone searches on the term "hotel Amsterdam," holiday rentals like yours can also appear
Currently (November 2022), all Vacation Rental listings are organic, which means all traffic from Google to your website is free of charge.
How does Google integrate Vacation Rentals in search results?
When travelers search for a property, they're often undecided on their final dates and destinations. Therefore, they are more likely to consider different accommodation types.
Unified lodging is how Google combines vacation rentals with hotel listings in search results to give travelers various options. By presenting these listings together;
Google creates a more cohesive and useful travel product for all users.
Google provides a comprehensive place for users to learn about an array of lodging types.
Google connects Vacation Rental properties with new types of travelers.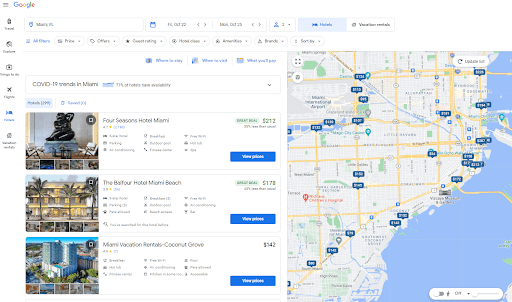 What are the differences between Google Hotel Ads and Google Vacation Rentals?
To sum it up, I'd like to give you a short insight into the differences.
Google Hotel Ads:
Launched in 2011.
Available for property owners (hotels, resorts, holiday parks, campsites).
Your property is registered as a Google Business Profile.
Ads (CPC or CPA) and Free Booking Link.
Competition of advertisers (property owner and OTAs) within the same listing.
Extra features such as Property Promotion Ads and room bundles.
Google Vacation Rentals:
Launched in 2019.
Available for private holiday homes and platforms that facilitate in between.
Create your own listing in Google.
Only organic free traffic to your website (for now).
No competition on your listing.
Currently limited features available to optimize your listing.
Google doesn't display the exact property address.
How do I get bookable?
After integration (which I'll explain more in the next paragraph), you can get bookable via campaign creation.
To begin displaying your Vacation Rentals properties on Google, you need to set up a Google Ads account, along with an associated Vacation Rentals account. Note that only the Google Ads account is used to enable properties to be displayed on Google.
After your account and campaigns are created, you will be visible and bookable within Google. From now on, your challenge is to focus on maximizing your impression share and optimizing for the best performance within your campaigns.
Would you like to get integrated?
The first step is being integrated. The ideal way is via a Google hotel ads integration and vacation rentals integration and connectivity partner.
Google's advice about this is:
"If you have fewer than 5,000 properties, before considering a direct integration, we strongly recommend working with one of our connectivity providers listed below to get your properties shown on Google."
To make the integration process easy, we only need to have the following information to get listed:
Share your Vacation Rentals properties
Share your rates
Share your landing pages
Interested in using Vacation Rentals? The Adchieve Vacation Rentals integration gives your vacation rentals maximum visibility on this growing platform.