Do you want to optimize Hotel Ads? Download our step-by-step guide for optimizing Google Hotel Ads here.
Where are Property Promotion Ads shown?
The example below shows you a result for the search "Hotel in Amsterdam." On a desktop, two Property Promotion Ads appear on top of the search results. On mobile, the ads could be shown at, for example, the fifth and tenth positions.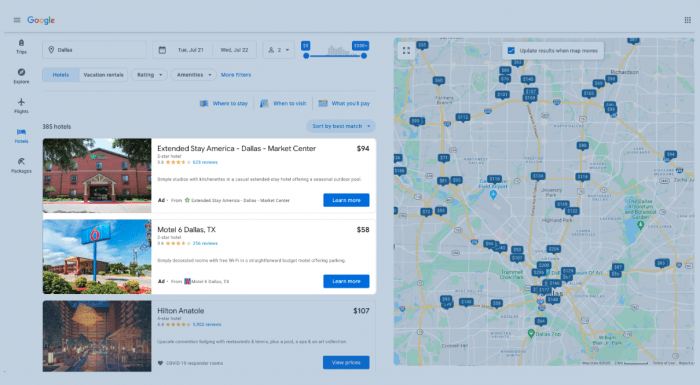 After travelers click on a Property Promotion Ad, they will be redirected to the "Sponsored Tab." This tab will only show the price(s) of the advertiser and not the prices of competitors.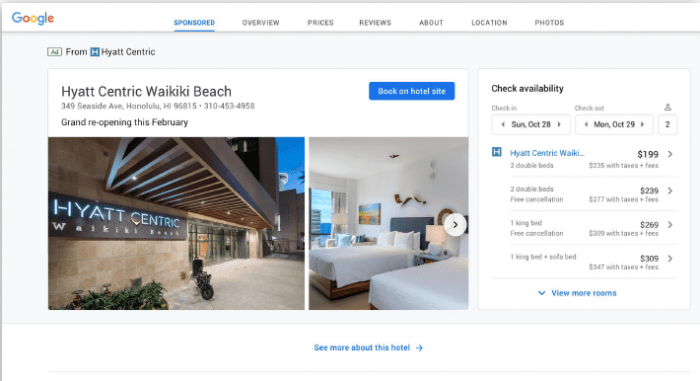 How do Property Promotion Ads work?
If you have active Google Hotel Ads campaigns in your account, we recommend that you create a new campaign for Property Promotion Ads. This way, you have complete flexibility to manage them separately from your Hotel Ads campaigns.
Property Promotion Ads offers bidding strategies similar to Google Ads and Hotel Ads. As an advertiser, you can choose a CPC or commission-based strategy. You can choose to redirect travelers to your website or the "Book on Google" funnel.
Like Hotel Ads, you don't have any control over what keywords your ad is shown for. Google will consider when it's relevant to recommend your property to the user.
The data in your Google My Business profile plays an important role in this, which is why it is important to keep this information up-to-date and as relevant as possible.
What are the benefits of Property Promotion Ads?
More visibility of your brand and property
Target new potential guests in their customer journey
The Ads are exclusive, and there's no competition in the Sponsored Tab
Advanced bidding and bid adjustments are possible
Full flexibility, you decide when and what to promote
Getting started
To start using Property Promotion Ads, you first need to integrate on Google Hotel Ads. Do you have any questions about Property Promotion Ads or the integration of Google Hotel Ads? Please contact us.