HORNBACH: Conversion value tripled for Local Inventory Ads and Pickup Today
With Local Inventory Ads from Google Shopping, you can show your physical store inventory to potential customers looking for your products and located near your location (s). The ads are shown on mobile and desktop.
HORNBACH NL, a well-known DIY store with headquarters in Germany, uses the (new) LIA features of Google Shopping. Including Pickup Today / Pickup Later in collaboration with Adchieve's software and feed management expertise. HORNBACH went live with LIA on February 16, and the results are amazing.
Search and shopping automation: a large and varied product range
HORNBACH has a very large product range. Diana Heijkoop (webshop manager at Hornbach NL) says: "We, and also HORNBACH Sweden, use Google Search and Shopping Ads together with Adchieve for our large and varied product range.
Thanks to Adchieve's automation software, we can easily create campaigns per assortment type in both countries. This way, we keep our campaigns clear, and we can easily determine budgets per assortment group. We can also automatically exclude keywords for Shopping campaigns. "
Interconnected retail strategy
Hornbach started setting up LIA in December 2020, "mainly because we wanted to focus even more on our interconnected retail strategy," says Diana. "The interconnected retail strategy means that we are always" on "with all our products.
Each product is as visible as possible, and that is why we advertise it both online and offline. In addition to our online range, we actively promote our offline products and services online. Conversely, we promote our virtual modules offline, where we offer additional products and configurators. "
"Corona has positively accelerated our strategy for us"
What options does LIA offer?
It's useful to know, that during the Corona pandemic, more features were added to the standard "Local Inventory Ads" principle "In Store", namely:
Pickup Today = pickup today
Pickup Later = pick up in x days at the latest
Curbside Pickup = outside pick up
Having DIY materials at home on time
Vincent de Lange, an SEA automation consultant at Adchieve, says: "You want to do odd jobs at a certain moment, so you want to be sure that you have all the products in house and that you are not dependent on delivery times.
"Therefore, Hornbach uses both the standard LIA functionality and Pickup Today. The labels in the advertisements specifically indicate, at the right time, whether a product is in stock 'in the physical store' (standard LIA) or whether the product can be picked up today (Pickup Today). You must specifically request this last feature from Google. "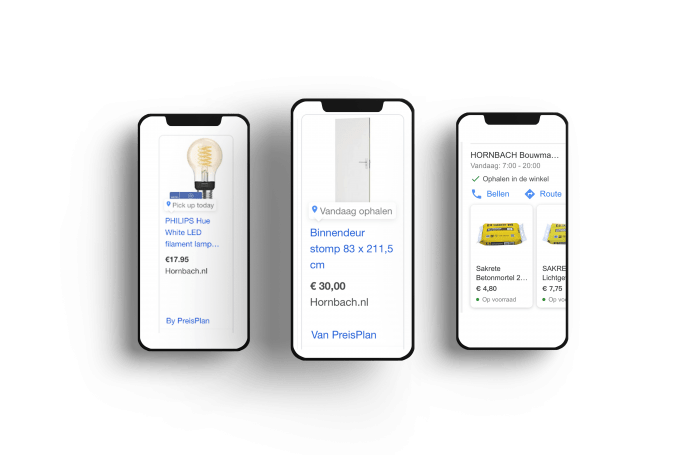 In the image above, you see two labels shown for HORNBACH "in Store"and "Pickup Today".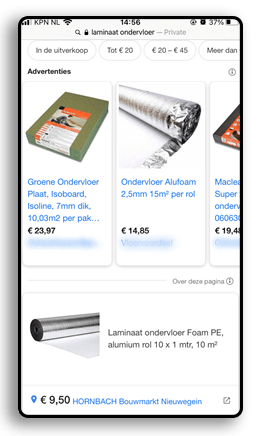 In addition to normal free product listings, you can also activate free local product listings in the Mercant Centre. The image above shows an example of a free LIA listing from HORNBACH, shown in Shopping, Search and Images.
Why are the results you see structured differently each time?
Vincent explains: "Google determines which labels are displayed based on the user. There can be several. There is also no fixed structure in what is shown in the SERPs (Search Engine Results Pages) because Google continues to develop it.
"For example, your home screen on Google shows a combination of shopping results, Google My Business listings, organic results, and Text Ads. If you click Shopping, you will see, for example, Shopping Ads, free product listings, filter options (for example, "available in the store"), and Text Ads. Thanks to these free product listings, Shopping, with ads at the top and bottom, has become a more honest comparison tool."
Feed-management: expert support from Adchieve
Before you can start with Local Inventory Ads, you have to take several steps. First of all, you must have Google Ads, Google Merchant Center, and Google My Business account, which must be linked to each other. You then upload two data feeds in the Google Merchant Center: your local and physical stock.
Vincent explains: "HORNBACH itself uses three feeds, which are supplied from the head office in Germany: One feed with in-store only products, one shopping feed with online products that are sometimes also available offline and one store stock feed with store codes.
"This is how it works for Pickup Today: HORNBACH indicates in the feed that the product is for sale online and can be picked up in the store today. In this feed, you provide a different URL so that the landing page immediately pre-selects the local store. "
Diana adds: "This was quite a puzzle and not an everyday occurrence for us. Adchieve helped us a lot and contributed ideas about this feed complexity. The updates are now also being realised on a structural basis."
"Expert knowledge is more than welcome when it comes to feed complexity around LIA"
Conversion value per invested Euro at LIA has tripled
Diana: "The first results are very good. The reservation and collection service is, as expected, widely used by our customers. We also see three very strong results when we compare the LIAs with the regular Shopping Ads:
The costs per store visit for the Local Inventory Ads are about 50% lower than those for the regular Shopping Ads over the same period.
The costs per online conversion (online reservation and ordering) are 71% lower than for the regular Shopping Ads over the same period.
Per Euro that we invest, the conversion value is three times higher than with the "normal" Shopping Ads.
Graph results LIA ads (at the time of Corona)
Diana: "This case was written in April 2021, at the time of the Corona crisis. It seems to be going less well when you look at this LIA progression, but the results are great in comparison with the regular Shopping Ads. The unfavourable trend has to do with the fact that the construction markets are slowly reopening, so people orient themselves more and ultimately buy in the construction market itself.

The fact that the costs in this graph are going up is positive. We choose to invest more in LIA because we see good results. The factors conversion value/costs down and costs/conversion up are, of course, negative. This can be explained by the higher budget, which means that we can pick less than before at LIA. The reopening of the DIY stores also plays a role here. So, the results are still great and three times better than those of the regular Shopping Ads."
Next steps for Hornbach and Adchieve
Hornbach is currently investigating the possibility of a curbside pickup. Because the construction market divides budgets based on performance, it will be continuously examined whether more will be invested in LIA. Hornbach also wants to test more bidding strategies.
Do you also want to optimize your Smart Shopping Campaigns?
Our experts regularly write about interesting insights and best practises. Do you also want to optimize your Smart Shopping campaigns by using the search automation software from Adchieve? Read more about optimizing Smart Shopping Campaigns.