Of all these marketplaces, Amazon is the largest in terms of turnover and market capitalisation. Amazon has more than 112 million prime members in the U.S. alone. Despite Amazon's already very dominant position in the global e-commerce market, its dominance is increasing.
Amazon has more than 600 million SKUs in the U.S. (source: Scrapehero). Most of these come from marketplace sellers. Amazon currently has as many as 3 million active sellers. Of these, 10% have an annual turnover of more than $100,000. So there are a lot of small sellers active on this fast-growing platform.
Reach customers worldwide
Amazon currently has a marketplace for no less than 14 countries:
The United States
The United Kingdom
France
Ireland
Canada
Germany
Spain
Italy
Australia
Japan
China
India
Mexico
The Netherlands
Sweden (coming soon)
The question is not whether new countries will follow, but when and which country will follow. So far Amazon has succeeded in becoming the market leader in each focus country. Through Amazon, you can therefore reach consumers all over the world with relatively little investment.
Advertising platform
In addition to being a marketplace, Amazon has also been an advertising platform since 2012. Sellers can, based on pay-per-click, promote their products within Amazon. Despite the young age of Amazon PPC, the platform is working hard to break the duopoly in the digital advertising market. Google and Facebook have dominated this market for a long time and together they hold around 60% of the market.
However, Google is losing market share and this is mainly due to Amazon. If you look at America, you will see that Amazon's market share in 2019 increased from 6.8% to 8.8%. A huge leap when you consider that Amazon only participates in the retail segment.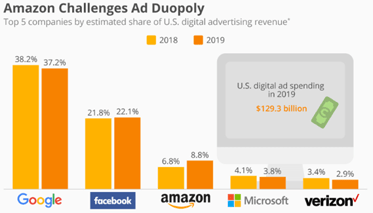 Source: eMarketer
The advertising market within Amazon has been growing for years and it is expected that this growth will continue to grow at the same pace for the time being. The growth within Amazon is not only due to the opening of new markets but also because more and more people start their search on Amazon instead of Google. Between 2015 and 2018, Amazon caught up with Google when it comes to product-related searches.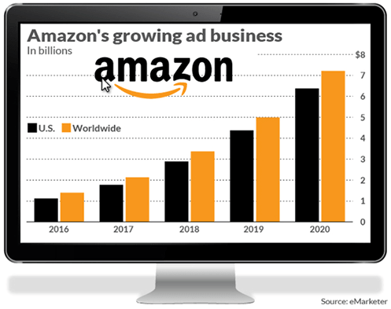 The conversion rates on Amazon are about 3 times higher than on Google. This can be explained by the ease and speed at which you can buy products within Amazon. The consumer is often already logged in, the shipping address is already known and the credit card is already linked.
What you have to take into account when selling, is that you have to pay extra commission at Amazon. This means that you have less room in your margins to bid. Of course, your competitors who are in the same auction also have to deal with this, so the costs per click have been adjusted accordingly.