Google Hotel Ads: Why you should use it
Do you recognize the problem of bringing in many bookings through Booking.com, for example, but also having to spend a lot on commissions? And would you like to have more direct bookings for your hotel, vacation park or resort? In that case, the use of Google Hotel Ads is highly recommended.
Just like Expedia, Trivago, Tripadvisor or Booking.com, Google Hotel Ads is a metasearch platform. Metasearch platforms are used by about three quarters of travelers to compare prices during their customer journey. Google Hotel Ads is a fast-growing platform within metasearch.
Google Hotel Ads are more and more integrated in Google result pages and therefore uses its existing search platform smarter to bring Hotel Ads more prominently to the attention of travelers. As a property owner you can continue to benefit from this.
We will explain below what the advantages of Google Hotel Ads are and how your potential guests will find your Hotel Ads. We also explain how the ranking of properties within Hotel Ads takes place and finally we give you some tips on how to better use these Ads.
Google Hotel Ads: 4 major advantages
Overall, Hotel Ads has four major advantages.
During a traveler's customer journey there are an average of 250 touchpoints, from inspiration (videos on Youtube, photos on Instagram), to checking the locations on Maps.

Google Hotel Ads gets prominent attention within Search, Maps and Assistant. This applies to different types of search terms, including generic search terms.

With a broad search, such as "Hotel Amsterdam", someone will automatically land in the Hotel Ads area, where they will be able to find your accommodation. That makes for a great reach and added value of Hotel Ads.

In addition, you realize

more direct bookings at a low cost and low risk

. You don't need to pay a commission of 12-15% (as you do with Booking, for example) and you determine what you pay by the different

bidding strategies.

Starting small (even with 1% or what we recommend, starting with 3-5%) is therefore a possibility.

Because the customer is redirected to your own website, you remain the

owner of the data

. This allows you to retarget your customer via display or e-mail, for example.

Google Ads is also beneficial for

new hotels/properties

. Your past and accumulated credits regarding SEA/SEO do not matter. You can achieve success on Google Hotel Ads even with a brand that nobody has ever heard of. That makes it incremental.
Google Hotel Ads: the nine most Frequently Asked Questions
1. Is Hotel Ads a replacement for Google Ads?
No, both complement each other. Google determines when hotels, parks or properties are shown to the user through Hotel Ads. This is initially related with a direct intention to book.
No Hotel Ads will be shown for certain search terms. For example, if someone carries out a search like 'vacation Paris', no Hotel Ad will be shown. This also applies to the brand name of a chain with multiple locations, for example 'Dormio Holidays'. These searches are not directly aimed at booking a property, so it can be a good strategy to advertise on these terms with a Google Ads text ad (SEA).
Conversely: if a competitor does show Hotel Ads on a specific property name and your visitor clicks on it, you will be missing out on a visitor.
2. What is the right balance between Hotel Ads and SEA?
This is different for each accommodation or brand. Of course there is always cannibalization on a search term. For example, as a property you can choose to go for regular Ads as well as Hotel Ads. For example, you can work with a CPC click strategy for Google Ads and a CPA strategy for Hotel Ads.
Of course, depending on what your user clicks on, there is always a certain risk you are carrying cost-wise. This being said, you can manage both advertising methods in one account. Good to know: Google doesn't give priority to parties that use one or both of these methods, so don't let that stop you.
3. How do my visitors/guests end up in Hotel Ads?
Google Hotel Ads is part of Google Travel, which also includes vacation homes, flights and inspiration. The consumer/customer generally ends up with Google Hotel ads in four ways:
General search in Google:

a search with a general term, for example 'Hotel Paris', will take you to a so-called SERP results page in Google. Between the advertisements (SEA) and organic results (SEO) you will find recommendations of holiday parks based on your search. These are often prominently featured. If you click on a recommendation or on "view more hotels", you will end up in Google Hotel Ads.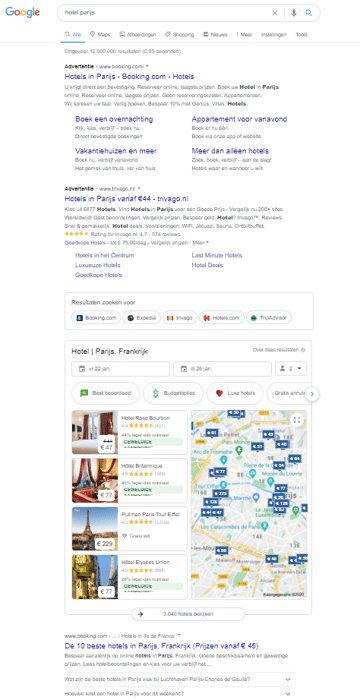 Specific search in Google

: suppose that someone searches for the exact search term 'Dormio Resort Les Portes Du Grand Massif'. Because this park is connected to Hotel Ads, it appears on the right-hand side, in Google My Business. That is where all advertisements are directly displayed; Kempervennen's own advertisement through Hotel Ads, but also those of all the other resellers advertising on this term.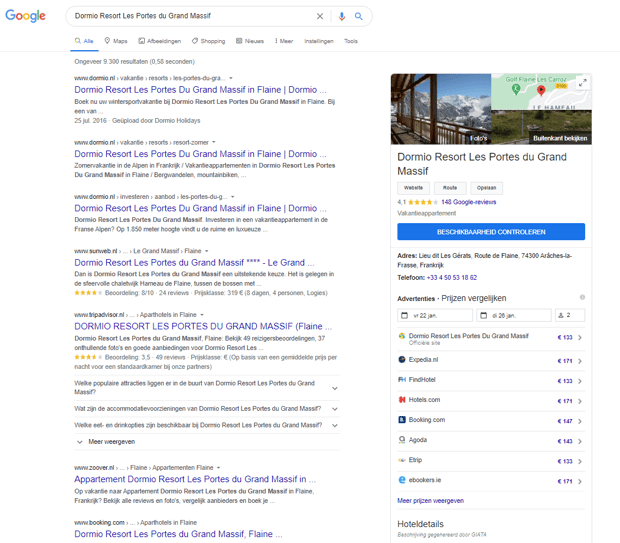 Google Maps:

within Google Maps you can, for example, search for the term 'Hotel Barcelona': you will get instant recommendations from Google with corresponding prices. If you click on a specific hotel, you can compare prices and make a booking. This can be used when someone is on-site, but is often used during the orientation phase.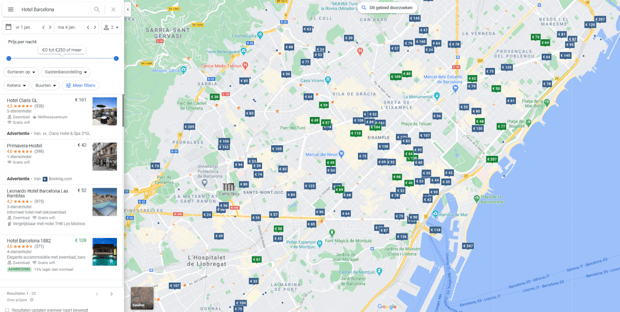 Google Assistant:

the Google Assistant is becoming more and more popular in the orientation phase and speech is being used at an increasing rate to find a suitable accommodation.
4. How do I appear and rank?
How you appear and rank in Hotel Ads depends on a number of factors.
These play an important role in the position you appear in, at any given moment:
CPC bid: depending on your bidding strategy: adjust bids according to the behavior of your visitors for better targeting

Price compared to the competition: the price compared to other resellers is important: the cheaper, the better your position

Price accuracy: does the price shown by Google match the price on your landing page?

UX of the landing page: how user-friendly is the landing page? Does it work intended and is it possible to book easily and quickly?

Official site badge: as owner of a property you will receive an official site badge, that leads to a better position

Is there a lot of clicks/is this party relevant?
5. How do I put Google Hotel Ads to better use?
I'll give you four tips for better use of Hotel Ads below, which will serve both Google and your visitors well:
Create highlight extensions:

give extra information that clarifies and stands out from other resellers.

Show the logo of your own brand

: it sounds logical and very basic, but many logos of properties are not yet being displayed.

Add room packages:

show all available types of accommodation for the number of people and dates entered, giving the customer more choice and making you more prominent as an advertiser.

Choose the right bidding strategy:

e.g. performance based through the Commission per Stay strategy: this means that you only pay for a booking if it has actually taken place.

6. Can I also start without much costs?
Yes, this is possible. For example, you can get started with Free Booking Links. You will then appear organically and under the paid Hotel Ads. A best practice if you want to start with Free Booking Links is to create/update your Google My Business profile.
Link your entire offer and send all your prices and availabilities to the Hotel Center. You do not have to create separate campaigns. Google Travel also offers useful free tools such as Hotel Insights.
7. Do I rank higher as a property?
Yes, Google often gives priority in the ranking to the official site badge owners, so the property itself.
8. Do I also have a chance as an online travel agency/tour operator?
Yes, if several parties advertise on one property, you still have a chance. For example, you can advertise on a property and then upsell to packages/flights on your landing page. Advice is to be selective about on which property you advertise.
9. How do I get started with Google Hotel Ads?
If you want to profit from Google Hotel Ads, Google recommends working with an official Google Hotel Ads integration partner. Google's advice is to also work with an integration partner for Free Booking Links so that you can rely on their API/Hotel Center knowlegde.
In our software (we are an official integration partner), you can also benefit from campaign creation and bidding strategies, which you can also use to optimize your Text Ads/sea. We integrate you in 3 steps within 4-6 weeks. Curious how that works?
Read more about Google Hotel Ads Integration Partner Adchieve.