Download tip: in this white paper we share everything we know about Performance Max.
Why has Google introduced Performance Max campaigns now?
Why does Google Ads launch Performance Max campaigns? PMax perfectly fit into an era in which automation is Google's ultimate solution to answer customer demand. "Thankfully, advertisers don't have to predict the future to be ready for it. If change is the challenge, automation is the solution businesses and agencies are using to stay ahead of ongoing shifts in consumer demand." (Google, 2nd November 2021).
After rolling out the beta version that started in 2020, Performance Max is now fully supported from November 2021. In the upcoming months, Google will introduce new PMax features.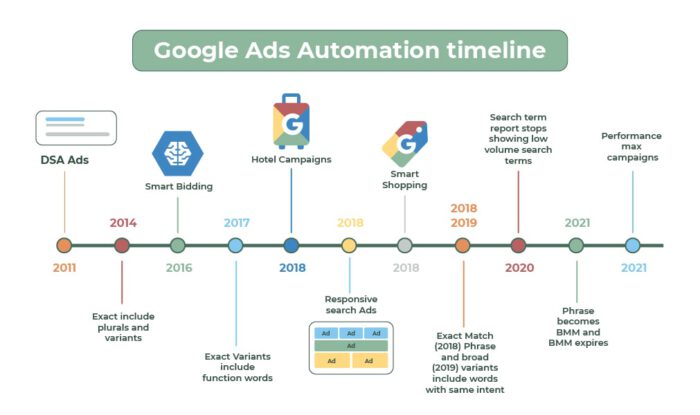 Source: Adchieve
What are Google's promises for this campaign type?
In a recently published article about Performance Max campaigns, Google explained that Performance Max helps you achieve your goals in four main ways:
Increasing conversions and value
Finding new customers
Gaining richer insights
Working together with automation
Sounds like a blast, right? But why are advertisers still worried?
Why are advertisers worried?
Advertisers already thought Smart Shopping went far in automation. However, Performance Max campaigns might feel like Smart Shopping campaigns (SSCs) on steroids. Or you could view it as SSCs and Dynamic Search Ads in one.
That is exactly what worries many marketers. It feels like control over where your money flows has been taken away. Advertisers are especially concerned about the Search campaigns: "You can take away Display, YouTube, and Discovery but don't touch our beloved Search campaigns!" And yes, we can understand this.
On the one hand, Search campaigns are Google's oldest campaign type. In addition, Search campaigns were the campaign type in which you, as the PPC specialist, could push the most buttons and had the most influence. In other campaign types like Display, YouTube, and Shopping, advertisers were already more dependent on the creative assets that were given and, therefore, also content creators. Therefore, we can imagine that Google touching these campaigns with Performance Max feels like a big change.
How much impact do Performance Max campaigns really have?
Let's dive into the facts and look at the priority Google gives to this new campaign type and how it will impact your account.
First, Performance Max campaigns get priority on Display campaigns and Smart and Regular Shopping campaigns. You can still create these campaign types, but if they are in the same account, the PMax campaigns will enter the auction and get the traffic.
At all other campaign types, ad rank is an important factor. If a Performance Max campaign has the highest ad rank, it is also prioritised over YouTube and Discovery campaigns. Looking at Search Campaigns, Performance Max will also get priority over Broad, Phrase, and BMM keywords but not over Exact match keywords: they will always be prioritised over your PMax campaigns.
That means most Performance Max campaigns will be prioritised, as you can see in the table below. All you can do is add exact match keywords because those keywords take precedence over PMax campaigns.
Note that just like Smart Shopping campaigns, you cannot exclude keywords. So when using Performance Max campaigns exact match keywords, they are KEY to controlling your Google Ads account. Later in this article, we'll tell you more about handling several campaign Types.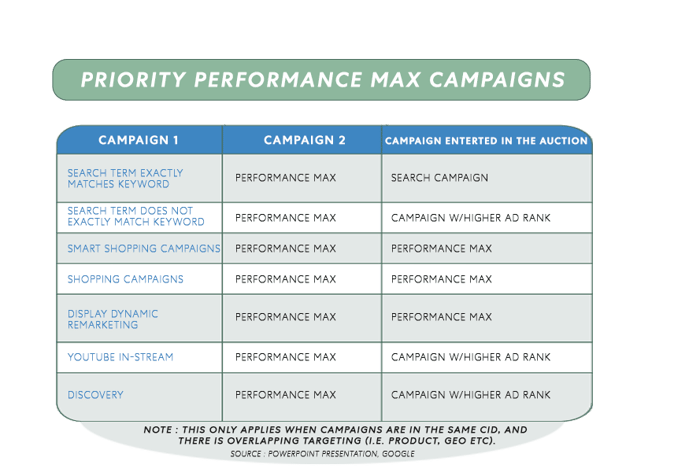 Click on the table to enlarge
Performance Max vs. Smart Shopping campaigns
We can imagine the comparison of Performance Max and Smart Shopping campaigns will pop into your head because Performance Max also places advertisements throughout several Google channels and inventory and only works via automatic bidding, just like PMax campaigns.
One important difference concerns the industries that will use Performance Max. Although Smart Shopping campaigns were used by retailers, Performance Max campaigns will improve performance for all industries like travel, finance, automotive, etc. This is because a product feed is not compulsory in PMax, unlike in SCCs.

But there are many more differences. To give you a quick overview, we've created this table: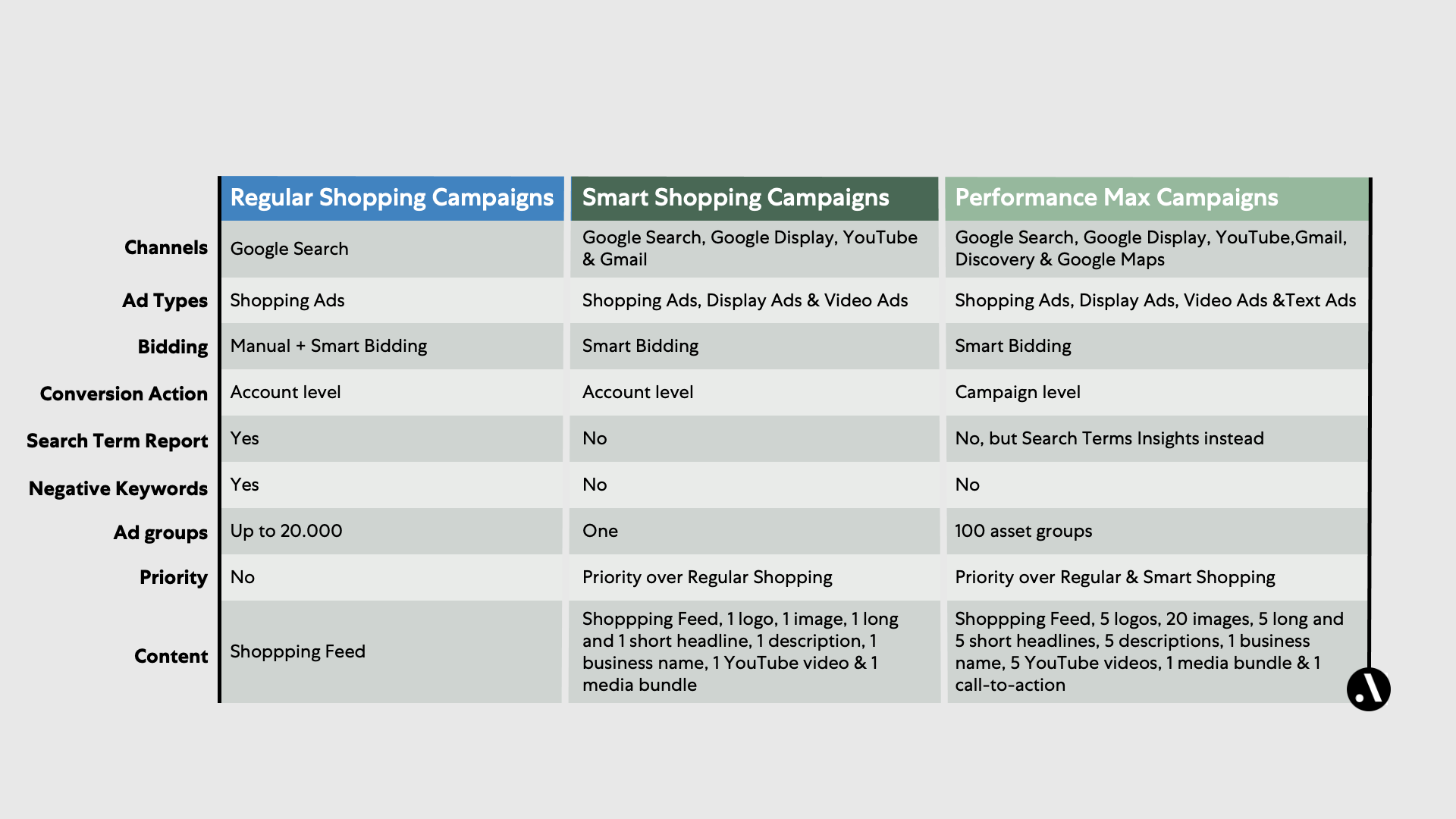 Click on the table to enlarge
In short, we will discuss the differences between Performance Max and Smart Shopping:
All channels and Ad types
In contrast to Shopping campaigns, Performance Max will use all Google's advertising channels, including Discovery and Google Maps. Looking at ad types, Performance Max campaigns will also use Text Ads.
Creative Assets
One of the great things about Performance Max campaigns is the large range of creative assets you can add to the campaign. In Smart Shopping campaigns, you can only upload one image, one short headline, one long headline, one description, and one video. However, in Performance Max campaigns, you can add multiple assets, depending on the asset type.
What's also interesting is that Performance Max campaigns give feedback about each asset's ad strength which allows you to easily optimise the assets by deleting poor performing assets and maintaining excellently performing ones.
You can also create multiple asset groups (up to 100) in one campaign to make your ad more relevant to the products that you offer. Within SSCs, you had to create a different campaign to do the same thing. Doing so would split your data, negatively impacting your campaign's performance.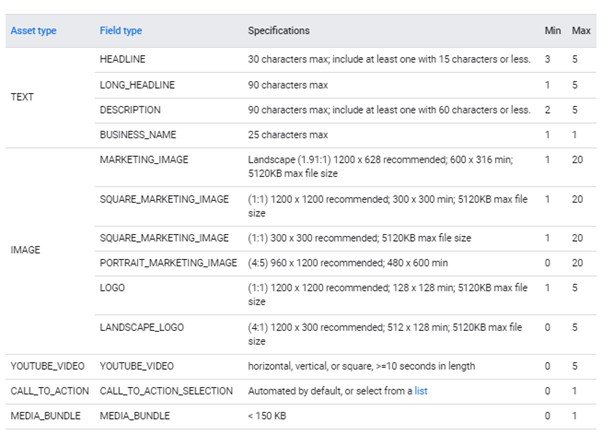 Source: Google
Note that front-end ads will look the same, and you will have no influence on that: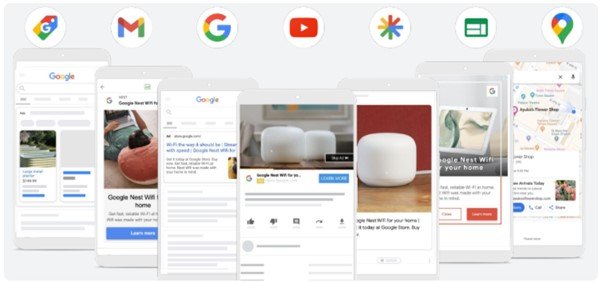 Source: Google
Insights
One of the biggest concerns on Smart Shopping campaigns was losing the search term report. With Performance Max campaigns, you get insights on your search terms grouped in certain themes. Not all search terms are visible, and not all metrics are available. However, you can view the most important ones and see the change in search volume too.
You also get interesting insights into your audiences, the number of products you've submitted, and how many were accepted. That means you don't have to go to your Google Merchant Centre to check and confirm the status.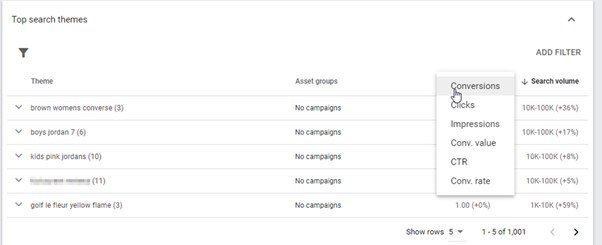 Source: Google Ads interface- Insights tab
Source: anonymised Google Ads account
Campaign Specific Goal Settings
Unlike Smart Shopping campaigns, Performance Max campaigns allow you to choose a specific goal at the campaign level to drive your campaign's performance. With SSCs, you could only use the conversion action set at the account level. The benefit of setting a campaign-specific goal is that it allows you to create multiple campaigns, each geared towards a different target. So let's say you want to drive online sales via one campaign and store traffic via another campaign; you can now do this with Performance Max.

Source: anonymised Google Ads account
Dynamic Search Ads
The biggest difference from SSCs is probably that Performance Max campaigns also capture ad slots for text ads. PMax campaigns automatically create text ads using information from your website and the content you provided in the asset group. It will then automatically target traffic that is relevant and likely to convert.
You could opt to only send traffic to URLs you provide, or (by default) you could let Google decide which URL is most relevant within your entire site. In the latter case, you can exclude specific URLs or set certain rules with URLs that are not to be targetted.
Source: anonymised Google Ads account
Tip: We put all our ideas about successful Performance Max campaigns into what we call the 'Burger Structure'.
How do I deal with my current Google Ads campaigns?
Google now recommends that you leave your current Google Ads campaigns on. This is how you should view your current campaigns:
Google Ads Search campaigns
One simple example is your branded campaigns. If you are not using exact match keywords or your branded keywords are in a different account, Performance Max campaigns could (and probably will) take over your branded traffic. This is bad because your branded traffic will then subsidise some of your lower performing traffic within the Performance Max campaign. Therefore, you have to make sure you have a Search campaign with your branded keywords in the same accounts as your Pmax campaign.
Furthermore, for Search campaigns in general, the question is whether the ads from the Performance Max campaigns have a higher Ad rank. In normal Search campaigns, you have more options to make your ads more relevant by breaking them down further and adding more extensions at a lower level.
YouTube and Discovery
As we've seen in the table above, the factor "highest ad rank" also applies to YouTube and Discovery. In some cases, you want to achieve a different goal with these campaigns. Therefore, you'd like to have more control over the content you show. In that case, it can be useful to set up a separate campaign for this goal. Your objectives and/or bids must, at least, be competitive enough to have a higher ad rank than your Performance Max Campaigns.
Google (Smart) Shopping and Dynamic Remarketing
The advice would be to see your current (smart) shopping and Dynamic Remarketing campaigns as a backup for your Performance Max Campaigns.
How to migrate to Performance Max campaigns
After rolling out the beta version, which some advertisers already had access to from 2020, Google has rolled out Performance Max to all advertisers since 3rd November (there is also an API for SaaS companies). Google advises you to run PMCs simultaneously with your existing Google Ads campaigns and conduct pre and post comparisons.
Advertisers can now create, manage, and report on their PMax campaigns via the API or within the Google Ads interface. Here, you can find the Developer Guide.
Google will also launch a self-migration tool for Smart Shopping and Local campaigns in second quarter of 2022.
Smart Shopping will disappear altogether in july 2022 according to Google's timeline. By then Google will auto migrate Smart Shopping campaigns to Performance Max campaigns. Before that time, there will be a point where you will not be able to create Smart Shopping campaigns, and after that you will no longer be able to change them. Finally, they will be migrated automatically.
How do I create and optimise Performance Max campaigns?
The creation of Performance Max campaigns is easy. After entering your goals, you'll be guided through a step by step workflow, where you'll also add your assets.
After setting up, there are actually quite a number of ways to optimise your campaign, maybe even more than before – or at least more interesting ways to optimise your campaigns, in our opinion:
So, first, let's summarise what you cannot control:
Add or exclude keywords;
Set manual bids;
Exclude audiences;
Add extensions at an ad group level.
And then compare this to what you CAN do to optimise your Performance Max campaigns. Some are single shots, and some are continuous improvements:
Improve your creative assets and extensions (look at ad strength, make changes during a certain season/promotion);
Improve your product feed (titles, descriptions, columns, etc.);
Split your campaigns into different target groups based on margin, new products, click products, etc.;
Add first-party data (remarketing and customer match audiences);
Exclude target URLs and placements (exclude sensitive placements);
Optimise for customer lifetime value (add new customer acquisition goals and or value rules);
Set seasonal adjustments, promotions during certain events;
Submit product ratings to Google;
Optimise your pricing, landing pages (CRO);
Safeguard your branded keywords by adding and maintaining a branded search campaign;
Improve the (cross-channel) attribution of your account;
Conduct uplift tests to understand the incremental uplift of your ads.
Interested in a comprehensive overview of the creation and optimisation of Performance Max campaigns? Soon, you download our whitepaper "Maximum Results with Performance Max campaigns" here.
Conclusion and advice
If you are worried that Google has completely automated your job, then take a second look at the long list of things you can do. You might even realise that adding and excluding keywords or changing a bid here and there were not the most exciting parts of your job anyway 😉
In our opinion, Performance Max campaigns are a great upgrade from Smart Shopping campaigns due to the extra options in creative assets and extra insights. The only thing you should be aware of is how PMax campaigns are prioritised. Of course, Google advises you to run Performance Max campaigns together with your existing campaigns and conduct pre and post comparisons.
With changes in seasonality, competition, your offerings and influences like COVID-19, we can imagine that it might feel hard to make a fair comparison. And because Performance Max campaigns get priority over other campaign types, it's hard to make clear-cut comparisons.
Nonetheless, our advice would be to start testing with Performance Max now. Especially if you advertise in several countries and now use Smart Shopping campaigns, for example, start testing already in one country. Otherwise, campaigns will be converted automatically next year when you didn't take the chance to test it already. To give you a heads up, we have seen multiple clients running Performance Max campaigns in beta version, with consistently strong results over a long time frame.
Google Automation software
Finally, a short look at your Google automation software. Its use of course will still be a no brainer in the Performance Max age. Improve your input, save time, and learn from predictable and actionable features.
Do you want to read more about Performance Max? In this white paper we share everything we know about Performance Max.