How do you establish the best Performance Max structure for Travel?
There are five elements which determine the best Performance Max structure for Travel. The structure must take into account:
strategy,
objectives,
capacity,
listings,
asset groups.
Align with your strategy
If you want to set up a successful structure, you must align your PMax campaign structure for Travel with your business strategy. This is the only way to achieve its full potential and ensure successful campaigns.

Your business strategy is the basis for the Performance Max campaign structure. As a property owner, you need to consider your own capacity and allotment (certain number of rooms intended for third parties, for example, Online Travel Agencies (OTAs) or Tour Operators), where you bear the risk if they are not fully booked. But if you operate as an OTA, for example, you don't usually have your own accommodations and there's often more dynamics in the margins in the range. Make sure that you have mapped this all out for yourself and use it as a roadmap for your campaign structure.
Contributes to your goals
Depending on what your strategy looks like and how you want to maximize your profits, at campaign level you immediately choose your budgets and targets, like target ROAS or target CPA. Do you want to focus on the returns that you get from your advertising budgets, or do you prefer to manage what a booking should cost you on average? Establish that at the same time as your roadmap to optimally set up your structure.

With Google Hotel Ads, there's another bid strategy that we hope to see in Performance Max in the near future: commission per conversion. With this bid strategy, your bid is automatically adapted to maximize conversions, and you only pay a commission if a traveler actually books your accommodation. This is a percentage of the booking value set by you. However, this bid strategy is not yet available within Performance Max, so for now you have the choice between target ROAS and target CPA.
Make optimum use of your capacity
The difference between Travel and Ecommerce is immediately clear in the campaign setup. A room can only be sold once for a certain period, while products can be sold so long as stocks last. Depending on the type of company you work for, you work with capacity, allotment and/or margins. You obviously want to optimize all this, and you can do this smartly in your campaign structure. Split your campaigns according to your budgets and goals for various accommodations, hotels or parks.

Firstly, you can optimally use your capacity by working with the booking arrival window. This is the period when people are searching as well as for which period, for example in January for the summer (July/August). You also need to consider the high season, when you reach maximum capacity faster. Depending on that, you can determine whether certain accommodation is more likely to be fully booked and for which you will therefore bid less, or less aggressively. In this way, you give more scope to accommodation which is less likely to get fully booked.

Another strategy you can use is one based on target group budgets or goals. For example, you can distinguish between the business and private segment. In the business segment, it is more likely that someone will return, has a bigger booking value and a bigger budget to spend in the hotel or accommodation. That's something else you can include in your setup. You then bid more on the business customer versus the retail customer because you know your return is higher.
Test with listings
You can now choose whether to link listings or not in Performance Max. Google calls it: Performance Max for Travel Goals. This functionality is currently in beta, so you can test it. If you want to have a go, choose which locations you link to the system. Google then automatically fills your asset groups with information from the Google Business profile and the Google Hotel Center. Images and texts are made relating to the locations. By linking them to a listing, you are immediately visible everywhere, like on Google Maps.

In the future, we expect this part to be linked to hotel campaigns too (Google Hotel Ads). Prices and direct information are then communicated immediately. The disadvantage of listings is that you soon reach your limit if you manage a lot of hotels or parks. It's therefore important to make a good selection of which listings you do or don't include. For example, based on the number of bookings or search volume.
Optimally organize asset groups
If you don't link listings, put together your own asset groups. If you create several groups for this, you can make the texts and images more relevant for the search task. The themes for the asset groups can be organized in various ways:

Per hotel property, accommodation or park.
Per theme, like beach, with the dog, with children, with swimming pool.
Per target group, like holidays with children or senior trips.
Per location, at various levels like country, province, city or area.
We recommend using a combination of campaigns with and without listings for your ads if you want to prevent some listings being missed out. However, remember only split campaigns if you have enough conversions. To adequately feed Google's automatic bidding algorithm, a minimum of 30 bookings per month is required per campaign.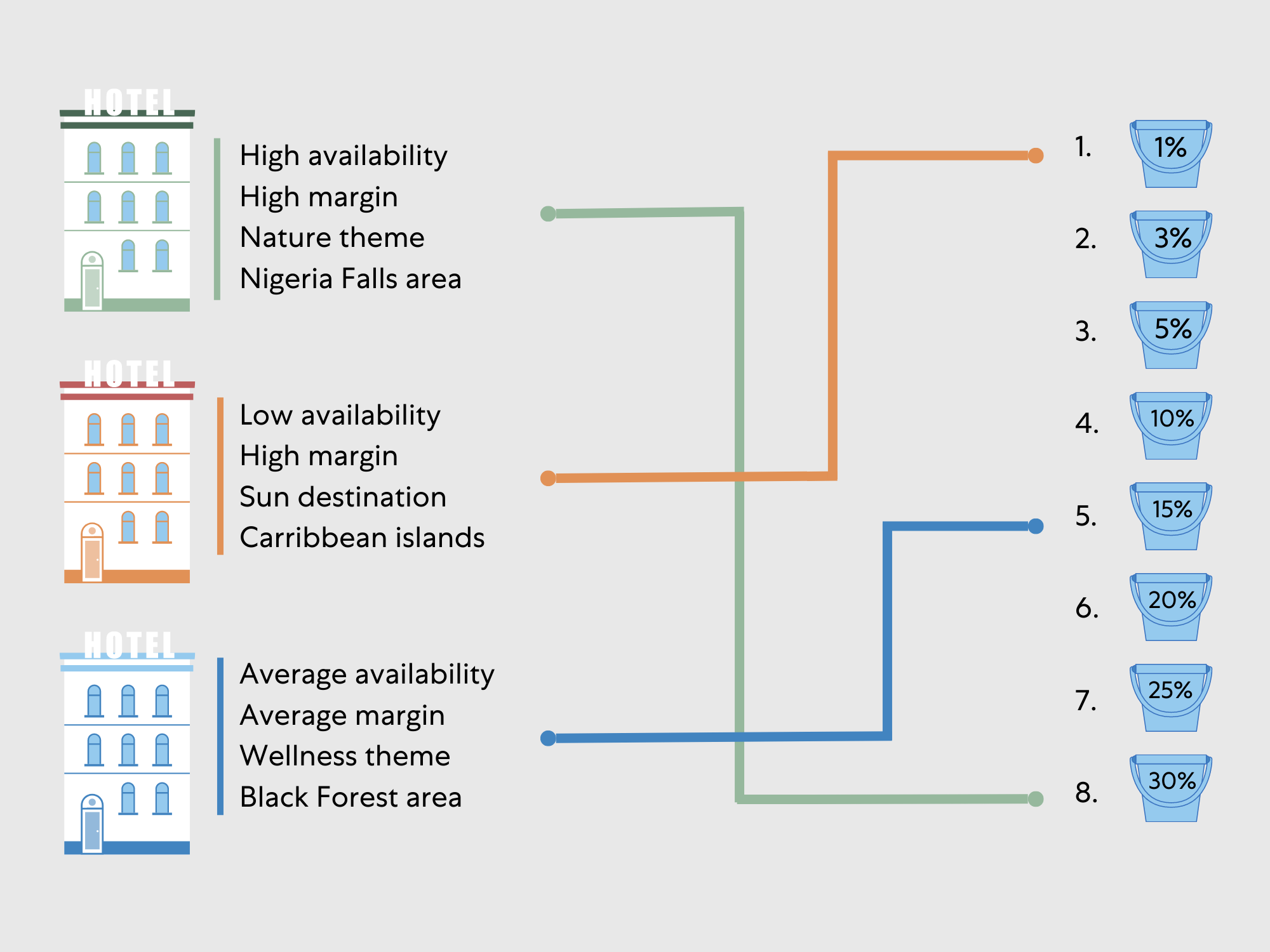 6 Best practices Performance Max Travel campaign structure
Which best practices do you use for your PMax campaign structure?
1. Organize themes
Whether it concerns different accommodations, cities, periods or other focus points in your campaigns, by organizing themes, you present a streamlined image to your potential booker. This increases the chance that someone will make a booking with you.

2. Focus on promotions
You create a higher urgency by communicating promotions. This might include discounts, or special moments like autumn holidays, Mother's Day or Halloween. In the near future, you will also be able to plan promotions. Google is currently rolling out a solution.

3. Include target group signals
If you allocate target group signals to your asset groups, you warn the algorithms that an ad may work well with a specific target group. These might be signals that you've collected yourself, like people who are already your customers, who have registered for an e-mail campaign, or target groups from remarketing lists, or they might be signals that you've set via Ads. For example, similar audiences, custom segments or standard target groups, focused on demographics, gender or affinity with certain interests.

Base this on the needs of the customer and associated themes: who is he or she, why do they want to book with me and what makes us unique?


4. Consider seasons
In the travel industry, it's certainly worth considering the seasons in your ads and structure. Avoid continuing to advertise winter sports at the end of spring.

By making yourself as relevant as possible and changing your creative assets in time for a new season, you increase the chance of getting a booking among your target group. Plan your themes so that you never realize too late that you're advertising in the wrong season.


5. Use 30 conversions per campaign
Not new, but relevant enough to repeat: only split a campaign when you achieve at least 30 bookings a month. Otherwise, the campaign does not have enough good data to send, and your results are far less guaranteed.

Allow the algorithms to do what they're good at and split campaigns when you've achieved the 30 conversions. That way you can be sure you are giving the Google bidding algorithm the input it needs to do its job effectively..


6. Consider your booking arrival window
Maximum capacity use ultimately generates the most. So, analyze your booking arrival window for a smart basis for your campaigns. The more you analyze such factors the better. Because you manage this campaign differently from a Ecommerce campaign, you want to include all the dependencies so that you can be sure that what you are targeting will generate the most for your business.

Difference with other campaign types
The biggest difference with other campaign types like Google Hotel Ads and Classic Search or Shopping campaigns is that the Performance Max variant automatically focuses more broadly on several channels. Other types of campaign always focus on one channel. This means that the campaign is visible in several places in the Google network and is prioritized over the other campaigns.

Because you also collect all the creative assets within a campaign, your ads look good and appropriate on all channels. Search ads from Performance Max look just like classic search campaigns. The only difference is that they are created automatically from the textual creative assets that you've supplied. This also applies for example in YouTube: it's the same as in a video campaign, but the advantage here is that the right banner is automatically added to the video, so that the banner and video interact well. Because all the creative assets are properly aligned and are visible over various channels, you offer a personalized experience which may lead to a booking sooner.

However, it's important to know that the Hotel Ads integration is not currently available for Performance Max for Travel. So, that means that your Performance Max campaign doesn't yet automatically show prices. You still need to run a separate Hotel Ads campaign for that. We expect this to be available soon. But until then, you should run your PMax and Hotel Ads campaign alongside each other.

Finally, we recommend running your PMax for Travel campaign alongside your Hagakure campaign in the search network. In fact, for the same reason that we recommend this for Ecommerce: this campaign generates the most success, due to the way it's set up and the amount of data that the campaign collects. By using them together, you can be sure that you will get the most results at all levels.
Adchieve vision
Performance Max for Travel will become increasingly important. Just as we saw with Ecommerce, in fact. But we don't expect it to go so fast. With Ecommerce, there was already a campaign type (Smart Shopping) which had many similarities with PMax, which enabled Google to force advertisers to switch. With Ecommerce, Shopping is also a very big part of Performance Max, which you don't see in the travel industry.

Hotel Ads is a relatively small part of PMax compared with Search. Nevertheless, we feel that you will be able to generate more results because you are on all these channels, and due to the combination between channels, ad formats, much more data and campaign types. And that naturally increases the chance that advertisers will switch. In the long term, we do expect that we can get much more out of Performance Max for Travel.
Getting started with PMax for Travel
With the tips from this blog, you can get started with your Performance Max campaign for Travel. We have talked about the best structure, the six best practices, the difference with other campaigns and our vision of what this means for the travel industry.

Make sure that your campaigns link up with your business strategy and design the campaigns so that you respond to themes, new developments, target groups, seasons, the booking arrival window and the 30 conversions per campaign. And combine your Performance Max with classic campaigns, like Search in the Hagakure structure and your Google Hotel Ads campaign. In this way, you will soon reap the results of your carefully designed Google Ads campaigns.