Tip: learn how to set up and improve your Performance Max campaigns step by step, so that they successfully help you achieve your targets. Ultimate Performance Max optimization guide.
What is a Performance Max asset?
In short, a Performance Max asset is a creative expression that you add to your Performance Max campaign. We make a distinction between text, image and video assets. When you combine these assets, you create an asset group that in turn you link to a product group. This group can be composed on the basis of a certain theme, such as a brand or product category, or a target group at whom the message is directed. Google Ads mixes and matches the creatives in the group in order to display it as effectively as possible on every channel.
Making optimal use of these assets is important, because they provide for a broad variety of placements within the Google network. The more assets you supply, the easier it is for the search engine to display your ad in the right format, on the right channel, to the right target group. The promise is that your ad will be displayed more often and its yield will therefore increase as well.
You can also create a Performance Max campaign without assets. In that case, the ads are solely displayed within Google Shopping, Google Search and the Google Display network. When you do add assets, however, your ads will also be shown on Google Maps, YouTube, Gmail, Discover, and the Google partner websites. This means there will be many more placements and, furthermore, you will have far more creative freedom. Below you will learn how to optimally use these assets.
Continue reading! In this article discover all the ins and outs of Performance Max campaigns.

Performance Max asset requirements & specifications
Google makes a distinction between four types of assets for Performance Max campaigns:
Texts
Image
Videos
Extensions
For each type of asset, you can supply different components in order to create a complete asset group. These are shown below.
Text assets
Headlines (normal & long)
Descriptions
Landing page
Display URL path (after the slash)
CTA (can be selected from the list)
Company name
Image assets
Portrait image
Landscape image
Square image
Square logo
Landscape logo

Video assets
Video in YouTube format, minimum 10 secs.

Asset-based extensions
Call
Callout
Hotel callout
Lead form
Mobile app
Price
Promotion
Site link
Website information
Every asset by default has a number of specifications that Google has summarized in the following visuals.
Text assets - specs & requirements
Below you will find an overview of specifications and requirements for the 6 different text assets known to Performance Max.
Headline
Maximum length: 30 characters.
Additional requirement: at least 1 headline with a length of 15 characters or less.
Recommended number of assets: 5 (minimum: 3, maximum 5).
Note: Google is increasing the maximum number of headlines to 15 soon, just like with RSAs in Search campaigns!
Long headline
Maximum length: 90 characters.
Recommended number of assets: 5 (minimum: 1, maximum: 5).
Description
Maximum length: 90 characters.
Additional requirement: at least 1 description with a length shorter than 60 characters.
Recommended number of assets: 4 (minimum: 2, maximum: 5).
Business name
Maximum length: 25 characters.
Recommended number of assets: 1 (minimum 1, maximum: 1).
Call-to-action
Default: automated.
Optional: self-select from a list.
Recommended number of assets: 1 (minimum 1, maximum: 1).
Display URL path
Maximum length 15 characters.
Recommended number of assets: 2 (minimum: 1, maximum: 2).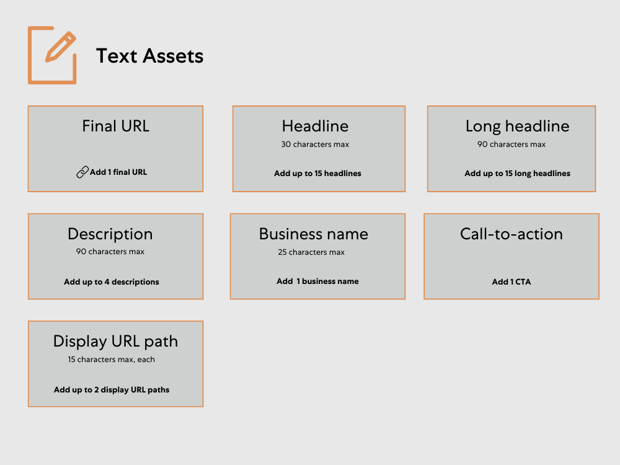 Image assets - specs & requirements
There are a total of 6 different image assets in Performance Max campaigns, below are the specifications and requirements:
Landscape image
Required ratio: 1.91:1.
Recommended size: 1200 x 628px, (minimum: 600 x 314px).
Maximum file size: 5120KB.
Recommended number of assets: 3 (minimum: 1, maximum: 20).
Square image
Required ratio: 1:1.
Recommended size: 1200 x 1200px (minimum: 300 x 300px).
Maximum file size: 5120KB.
Recommended number of assets: 3 (minimum: 1, maximum: 20).
Portrait image
Required aspect ratio: 4:5.
Recommended size: 960 x 1200px (minimum: 480 x 600px).
Maximum file size: none.
Recommended number of assets: 1 (minimum: 0, Maximum: 20).
Square logo
Required ratio: 1:1.
Recommended size: 1200 x 1200px (minimum: 128 x 128px).
Maximum file size: 5120KB.
Recommended number of assets: 1 (minimum: 1, maximum: 5).
Landscape logo
Required ratio: 4:1.
Recommended size: 1200 x 300px (minimum: 512 x 128px).
Maximum file size: 5120KB.
Recommended number of assets: 1 (minimum: 0, maximum: 5).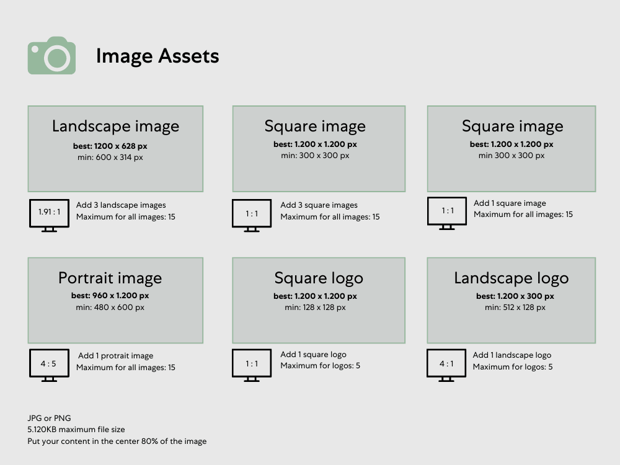 Video assets - specs & requirements
There is only 1 type of video asset in Performance Max campaigns. This asset is specifically for YouTube, but can also be displayed in the Display Network. Below you will find the specs and conditions for video assets:
Recommended quantity: 5 (minimum: 0, maximum: 5).
Minimum length: 10 seconds.
Required ratio: horizontal, vertical, or square*.

*Videos in landscape format can automatically be resized by Google to square (1:1), or portrait (9:16) format. Google claims to review whether videos are suitable for resizing. In case of problems, you can contact Google support to opt out of this functionality.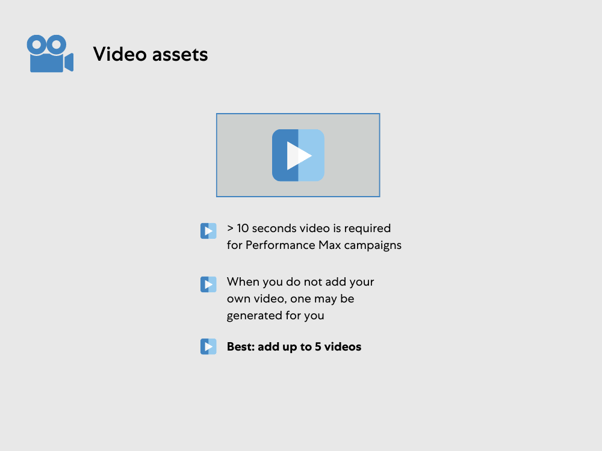 Pay attention to the following for each asset category

In preparing your Performance Max campaigns there are a number of points for attention that you should consider to help you create excellent assets.
Text - points for attention
Use dynamic values:

this way your assets are relevant for everyone and this also enables you to match search commands as effectively as possible.

Add the maximum number:

add the maximum number of allowable text assets. This enables Google to mix and match. The more options you provide, the more there is to test and the better the combinations.

Incorporate USPs:

add these to your texts to immediately attract the attention of your target group.

Select calls-to-action (CTAs):

although when you use an individual asset you are already selecting a CTA, we recommend that in the text too, you still call for action, such as 'visit the webshop', or 'shop now'.

Think of an attention grabber:

by drawing attention in your text in a nice or funny way, you are more likely to be remembered by your potential customers. And that in turn results in faster purchases.
Image - points for attention
Select designs that show well in any format:

you will want to avoid using too much text, which makes the image difficult to see or read when it is displayed in small format. Always opt for high quality, proper proportions and the right number of pixels.

Create engagement:

for example by choosing a model for your campaign, or someone who is using the product, in comparison to a pure, empty product photo.

Use social proof:

by adding elements such as a Trustpilot rating, you show potential new buyers that your products and webshop can be trusted.

Incorporate USPs:

show the unique benefits of your products and/or company in your images to stimulate purchasing.

Anticipate promotions and actions:

incorporate these in your banners and use as many formats as possible for different placements. Add as many images as possible so that Google can perform A/B testing. For example, a banner test with and without promotion.

Pay attention to automatic overlays:

in some ads, the call-to-action button is added to the bottom of the image. Avoid having this button overlap an important part of your banner.
Video - points for attention
Use audio in your videos:

this in view of the fact that some people only listen to YouTube and do not, or only barely, view them.

Use various ratios:

YouTube is also experimenting with videos that look like TikTok: YouTube Shorts. This format is popular and is viewed by many people. Anticipate this development with your ads and add videos that have a suitable ratio for this purpose.

Add short and long videos:

this enables Google to test what works better.

Ensure that your video is in line with your branding:

that creates recognition and thus works better.

Do not forget the thumbnail:

an image that supports the video. The recommendations made for images also apply here.


Pay attention to sections you must avoid:

such as the player controls, buttons at the top and the skip ad button. You will not want to place crucial content underneath them, which would make them less visible. The illustration below shows how to best configure your video.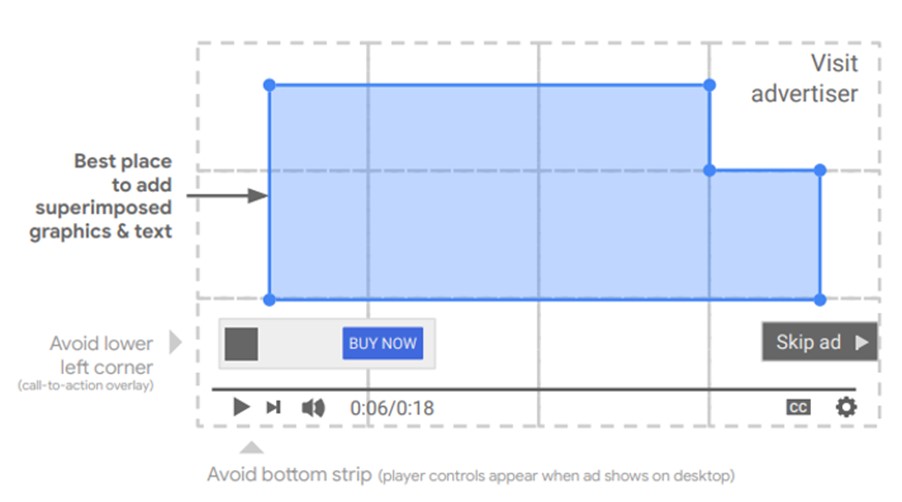 10 Best Practices for Performance Max assets
It is possible to build excellent campaigns with standard assets. But to really stand out you need to go the extra mile. Below you will find our ten best practices for successful Performance Max assets:
1. Use as many assets as possible
Although a Performance Max campaign can also run without assets, we recommend that you add as many assets as possible when you do decide to use them. The more creatives the algorithm has to choose from, the more placements you will have and the better Google can test for effectiveness. Provided that the assets you add are relevent enough.
In other words, do not aim for the minimum within your asset group, but choose as many different assets as possible with a similar theme in order to optimally anticipate the wishes and goals of your target group. You'll see that this will definitely bear fruit.
2. Add your own videos
This way you have much greater influence on the branding, structure and appearance of your video. If you do not supply a video as an asset, Google will create one itself on the basis of the information you provided. This is more or less a slideshow, accompanied by music selected by the system.
If you are going to make your own video, or have one made, stick to the following principles:
Draw attention within the first 3-5 secs. At this point the 'Skip-ad' button is not yet visible. So this is when you'll want to grab the opportunity to introduce your brand, so that viewers know what it's all about and stay tuned.
Appeal to your target group: by providing certain information that causes your target group to continue to linger and the rest to click away, you are left with the target group you in fact wish to reach.
Introduce your product or service.
Conclude with a clear call-to-action.
3. Incorporate dynamic values into the textual assets
This is a best practice that we often apply as well. Adding dynamic values to your texts enables you to optimally anticipate the search commands of your target group and this way you also provide specific information, which benefits relevance. For example, think about adding 'from $xx.xx' or 'the number of units still in stock' to create urgency. We are not referring here to Google's dynamic features such as Keyword Insertion, as this is not yet available for Performance Max.
The benefits of including dynamic values in ads are as follows:
Time savings: you do not have to create a separate headline for each group, but you only need to fill in a template once, whereby the dynamic values are automatically matched to the right asset group. That saves a lot of time.
Relevance: displaying specific information in the ad makes you more relevant and differentiates you from the competition.
Improved results: by adding dynamic values the customers immediately know where they are at when they view the ad. This subsequently provides for better quality clicks, because the probability of converting people is higher.
4. Add audio to your videos
In YouTube it has been shown that many users turn on a video as background sound while they are engaged in another activity. So, if your video only includes background music, then this is a missed opportunity to attract the attention of the viewer/listener.
By adding a good, clear voiceover to your video, you will also address the 'passive' viewer. This way you double your chances that something will be done as a result of your video instead of just providing a nice musical interlude.
5. Anticipate trends, developments and promotions
You create relevance for your target group by anticipating trends, developments and promotions. For example, think of products that are currently popular, after-season sales and special discounts for public holidays. By designing smart asset groups for this purpose, you will advertise the right products at the right time, as a result of which your target group will be more inclined to make a purchase.
For example, do you have a special Black Friday discount? If so, create an asset group with relevant videos, images and texts that anticipates this. Or do you prefer a special Christmas campaign? You can create a special asset group for this as well. You can continue to do this endlessly, so that you always stay relevant for your potential buyers.
6. Constantly keep testing
What works well today, is not a guarantee for tomorrow. This is why it is especially important to continue testing with your assets. For example, add different calls-to-action to your assets and allow them to run side by side to see what works best. Do not try to test everything all at once, but try to limit your setting to an A/B test. As soon as you have a winner, you can subject it to the next test in order to come up with the best design or the best asset.
Stick to the following throughput time in this regard:

7. Let the branding surface everywhere
Recognition is more likely to result in a purchase. This is why you should not experiment too much with your branding, but let your brand expressions resurface everywhere. Think of your logo, colors and typography that must always be recognizable. To achieve the best results, the branding should flow through your texts, banners and videos.
8. Give careful thought to your asset group structure
This structure determines the type of assets you are going to make. You may want to develop your structure on the basis of your target group, performance, main categories or the brands you have available. The deeper your structure, the better your assets will match the search commands and what your customers are actually looking for.
At the same time, a deeper structure also is the most effective way of structuring. For example, this helps you to appeal to people in different phases of the sales funnel, including those who do not yet know exactly what they are looking for. The drawback is that this takes a lot of time, so you should carefully assess the extent to which this is worth the effort for your business.
Interested in finding out which campaign structure best fits your needs? In this article you will discover how to set up the best PMax campaign structure for your organization.
9. Anticipate new developments
In e-commerce it helps to have your asset groups match new developments. For example, to show the right dress in the right season, but also to announce the launch of a new collection.
By effectively identifying new developments in advance and then creating matching asset groups, you will always be displaying the right ad at the right moment. Relevancy is the key word here, because the better the asset groups match, the more likely it is that someone will convert.
10. Select the right calls-to-action
Ultimately, all ads are always focused on having people take action. Guide them in the right direction by giving careful thought to your calls-to-action. Are you interested in having someone make a purchase, read more or become inspired? It is important to clearly identify this so you do not send someone on a wild goose chase.
Time to get down to work
With the specifications, points for attention and best practices in hand, you have all the ingredients you need to turn PMax assets into a success. Follow our instructions step-by-step and you will be ready to let your assets blaze.

Besides assets, there is much more to optimize in Performance Max. You can read all about it in the Ultimate PMax Optimization Guide.