So far, Amazon has succeeded in becoming the market leader in every focus country. Amazon has more than 112 million prime members in the US. With Amazon Prime, consumers can get free delivery within two days in exchange for a monthly fee. In addition, Amazon Prime offers many other extras such as the free use of Amazon's music and video streaming services.
Fast-growing platform
Despite Amazon's already very dominating position in the global e-commerce market, dominance is increasing. Amazon has more than 600 million SKUs in the range in the US. (source: scrapehero). The majority of this comes through marketplace sellers. Amazon currently has no fewer than three million active sellers. 10% has an annual turnover of more than $ 100,000. So there are many small sellers active who have jumped on this fast-growing platform.
Advertising platform
In addition to being a marketplace, Amazon has also been an advertising platform since 2012. Sellers can, based on pay-per-click, promote their products within Amazon. Despite the young age of Amazon PPC, the platform is working hard to break the duopoly in the digital advertising market. Google and Facebook have dominated this market for a long time and together they hold around 60% of the market.
However, Google is losing market share and this is mainly due to Amazon. If you look at America, you will see that Amazon's market share in 2019 increased from 6.8% to 8.8%. A huge leap when you consider that Amazon only participates in the retail segment.
The advertising market within Amazon has been growing for years and it is expected that it will continue to grow at the same pace for the time being.
Amazon vs Google
The growth within Amazon is not only due to the focus of new markets. The growth is also due to the fact that more and more people are starting their search on Amazon instead of Google. Between 2015 and 2018, Amazon overtook Google when it comes to product-related searches.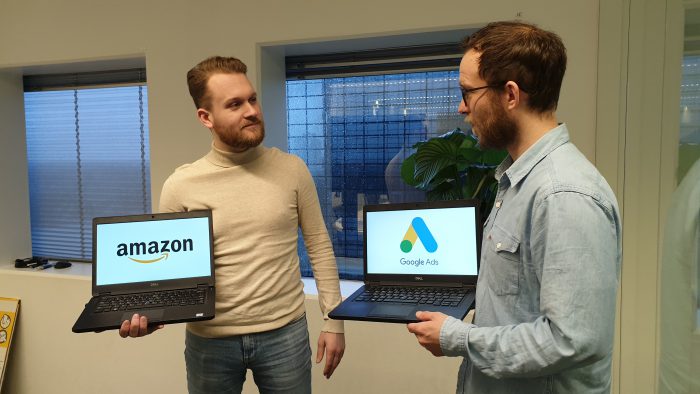 Within search engine marketing we often distinguish generic searches, such as sneaker, brand-related searches (such as Nike) and product-related searches (such as Nike Airmax 90 essential black). The more specific a consumer searches, the further the consumer is in his or her customer journey and the higher the chance of a conversion, but the lower the search volume per keyword.
Despite the generic searches, the conversion rates on Amazon are around 3x higher than on Google. This can be explained by the ease and speed with which you can purchase products within Amazon. People are often logged in, the shipping address is already known and the credit card is linked.
Adchieve's solutions
Within our software we offer both the possibility for automated advertising in Amazon and automated advertising in Google Ads. In this way you can benefit from the best of both worlds, fully automated.
Amazon PPC
Amazon PPC starts with the right campaign structure and finding the most relevant keywords for your products. Your product feed is an important source for finding the right keywords. Via the Adchieve feed module you can extract, adjust and combine data from your product feed. This forms the most important basis for building your campaign.
In addition to the keywords from your product feed, you can use Adchieve to retrieve data from your Google Shopping and Google Search campaigns that have performed well in the past. You easily set the KPIs with which you want to make the selection and link them to the right products. Adchieve then automatically forwards these keywords via the API to your Amazon campaigns. In this way you use the wealth of data that you have built up with Google in the past to make a quick start on Amazon.