Why Advertise on Amazon?
First of all, go back to the basic questions you should ask yourself before diving further into Amazon PPC advertising. Why would you even think about advertising on Amazon at all?
Even if you already sell well, Amazon advertising can bring you a lot. See if you can answer yes to the following questions:
Do I have a new product that I want to boost?
Are my products seasonal and can I use a boost at certain times of the year?
Do I have a lot of competition and do I want to keep my brand at the top?
Do I want to boost sales of all products in my product line?
If you've already answered yes to any of these questions, then you should definitely consider advertising on Amazon. As you can see, I use brands and products interchangeably.
You have the ad type 'Sponsored Products' to increase the sales speed of products, but you also have 'Sponsored Brands', which is meant to grow your brand. Both are reasons to advertise on Amazon. However, you can only use Sponsored Brands if you sell your own brand and the brand is registered. More on that later
The differences in the picture
Below you can see the differences between Amazon and Google clearly and at a glance:
As you can see, there are 10 major differences at the top. I will discuss these factors below.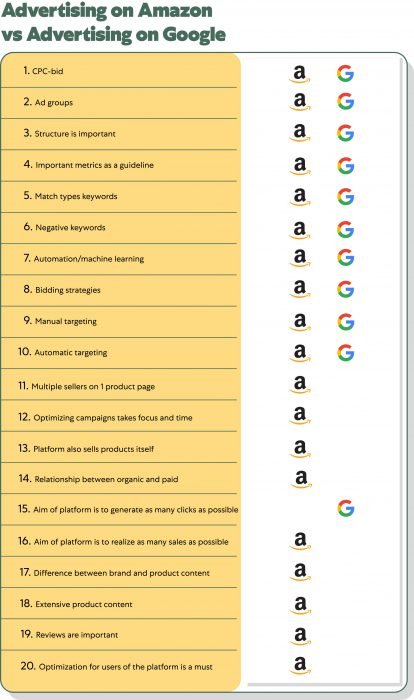 1: Selling on Amazon is more of a competition
In this chapter, I will elaborate on factors 1, 2 and 3 from the above table.
Amazon is a Marketplace and that is where the biggest difference with Google lies. Each product has its own product page on Amazon (product listing or also product listing). On such a page you can often find several sellers of a product.
The Amazon Buy Box is a section on the right side of any product page on Amazon, where customers can add the product to their shopping cart (and checkout immediately) by clicking the "Buy Now" button. The Amazon Buy Box "winner" of the moment gets a sale in their name.
Do you want optimal exposure and conversions? Then your challenge lies in being optimally displayed in the Amazon Buy Box. You will have to strictly follow Amazon's rules and if you're a good seller you always have a better chance. Amazon, on the other hand, also sells products itself and can therefore also win. In that respect, selling on Amazon is more of a competition, may the best win.

2. Advertising also affects your organic results
In this chapter, I will further elaborate on points 4, 5 and 6 in the above table. Also unlike in Google, the relationship between paid and organic product displays within Amazon plays an important role.
Traffic, on-page activity, and sales resulting from paid advertising also affect the organic ranking of your product. If you advertise with a certain keyword and sales result from that, the product will also score better for that keyword organically.
It's like this: you learn the algorithm more or less when the product is displayed, it will almost certainly be sold and that works the other way around. If a keyword's organic ranking is very strong, then the ads will be seen as relevant and, in turn, will rank well in Amazon's ad auction.
3. You play the match differently: it is not about as many clicks as possible
If we then look at points 5 and 6, you can see that Google and Amazon are exactly the opposite. This also ties in with the above because everything in Amazon is aimed at realising as many sales as possible.
If your product offering is not competitive and does not qualify for the Buy Box, then it simply is not eligible to be shown as an ad.
Therefore, you play the match in Amazon differently. For example, what you do more at Amazon than at Google is to remove keywords that cost more than what they generate in sales. On the other hand, you keep boosting the successful words.
Also, preferably look in your ad groups and look for ads that are unsuccessful and remove them. That way you will run effective campaigns and only spend the budget on ads that actually perform well and… there you have it again – generate more sales.
4. Difference between brands and retailers that advertise
We now come to factors 7 to 9 from the above table. To give the best possible picture of a product, you can optimise it in various ways. For example, if you are a brand owner, you can add much more relevant product info than on Google.
As you probably know Amazon makes a distinction between brands and retailers. Brand content in combination with advertising and product content in combination with advertising are therefore two different things. It is good to know that Amazon distinguishes between different types of sellers, namely 1P, 2P, and 3P.
1P stands for a first-party relationship because Amazon is the seller and you are the supplier/wholesaler/manufacturer. In addition to purchasing conditions, a 1P-Vendor also makes agreements with Amazon about advertising, but in practice hardly or no use is made of this because this product almost always wins the Buy Box.
You are 2P if you sell your own brands yourself. If you are a brand owner, you can use sponsored brands, but also optimise product content and create A+ content and a storefront.
3P means that you also sell products yourself, but these are only products from other brands. A 3P seller can have little or no influence on product content and, for example, cannot use Sponsored Brand advertising. The only thing you can influence and distinguish is the selling price. A 3P can really only compete with price and generally, I dare say that has proved untenable.
5. More and more Amazon Prime: respond to this as a seller
Finally, I come to point 10 and this ties in perfectly with what we have already read in this entire article, Amazon's competitive nature. More and more people on Amazon are using Prime and as an advertiser, you'd do well to play this game with the customer.
Why would you optimise everything perfectly and still lose to a seller who can keep up with the benefits of Prime? If you use Prime offers; then you are guaranteed to get more conversions.
And like I said, that's more important than clicks. The more conversions, the better you rank and the more you win. This completes the Amazon competition circle as far as I'm concerned;)
What does it cost?
What does it cost? Not unimportant. Compared to the more established Amazon platforms such as those in the United States and Germany, the advertising costs on Amazon NL are still very low. Compared to Google…
The advertising costs will of course increase structurally when the competition increases (and thus the visibility of your products becomes increasingly challenging).
Amazon PPC Management: Automation saves time and improves
Advertising on Amazon is a must for any Amazon professional seller. If you want to compete and have a better chance of winning the Buy Box, sooner or later you cannot avoid advertising because the range and competition increases.
Automating Amazon PPC campaigns, as you do with PPC management software for Google, is recommended. It saves time, improves your campaigns, and ensures healthy ACoS and margins. With Amazon PPC management software running sponsored product campaigns doesn't have to be a time-consuming job.
Would you like to profit from Amazon PPC automation too?
Read more about Amazon Advertising or please contact us.