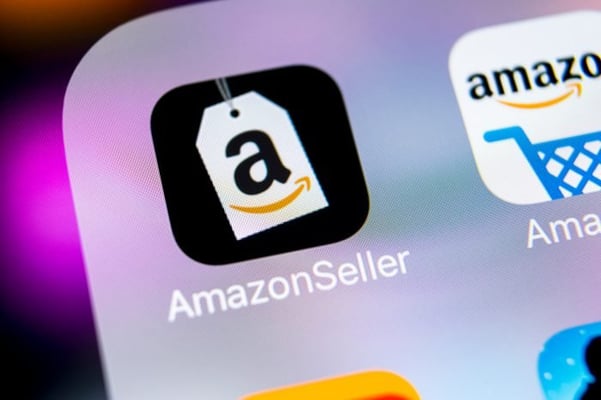 Explore all features for campaign automation and optimization
Feed based Amazon PPC campaign creation
The campaign creation feature enables you to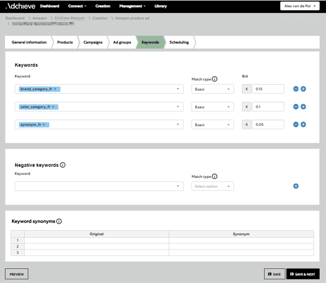 automatically create Amazon PPC campaigns based on a
product feed.
Choose to create multiple campaigns based on a
column in your feed like brand or product type or
choose a single campaign.
Choose to create manual or auto ad groups and set
your own ad group naming structure.
Set manual keywords from columns in your feed,
choose your match type and starting bid.
Automatically apply negatives to your ad groups.
Set synonyms for your keywords.
Schedule the feed to automatically update your
campaigns.
Bid management
Adchieve's Bid Algorithm automatically uses advanced machine learning techniques to calculate the most optimal bid based on a ROAS or ACOS target.
Automatically update bids.
Choose your own ROAS or ACOS target.
Advanced Machine learning techniques, semantic learning, exponential. smoothing and data aggregation for the most optimal results.
Keyword harvesting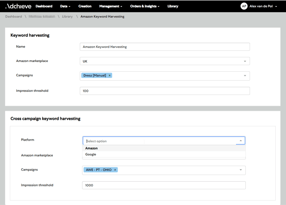 The Keyword Harvesting feature uses Adchieves Allocation Algorithm with advanced machine learning techniques to automatically apply keywords from your Amazon auto campaigns or Google Ads campaigns to your manual campaigns.
Retrieve keywords from Amazon auto campaigns.
Retrieve keywords from Google Ads campaigns.
Comprehensive insights & reports
The Adchieve Report functionality gives you more insights about your Amazon PPC campaigns performance.
Attribution data for clicks coming from the same product.
Attribution data for a 1, 7, 14 and 30 days attribution window.
Automatically create a csv for you to import in your BI-tool or dashboard.
Do you have questions about our Amazon PPC Management features?
Please contact us.